JPG or (JPEG), GIF, and PNG are the main graphic formats used online. These file formats are also used in print, multimedia, and presentations.
Each file type has its own purpose and it's important to understand which file formats to use for which purposes. Knowing this will ensure that your images look optimal on all the different platforms you present them on.
The quality of all images you use, both online and in print, is important for your brand. Presenting blurry, unprofessional images will damage your marketing efforts and can make you lose authority.
Whether you need images for your website, social media, presentations, printed materials, or any other purpose, keep reading to discover the differences between JPG, GIF, and PNG to help find the best format for your needs.
The Difference between JPG, GIF, and PNG File Formats
JPG or JPEG (Joint Photographic Experts Group) is the main file format used for online and printed images. This file type is great for photographs as it supports a full spectrum of colors. It also displays well on all devices and can be easily saved. 
One problem is that while you can reduce the file size of JPGs, the quality of the image will lessen as you compress the file. It's therefore not great for images that need to be continuously edited. 
JPG is the file format of choice for photographs and photo-like images. It's perfect for a lot of online images and for those you want to use in printed materials. It's also a good option for graphics that feature a range of colors and gradients.
JPG doesn't support transparency so it's not a good choice for line graphics especially if placing them over background colors or other images.
It also isn't a good choice for typography or photos with sharp edges. These all may become very blurry as they get compressed.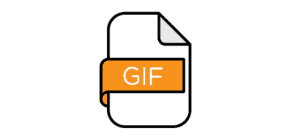 GIF (Graphics Interchange Format) is the main file format used for animation. It's the only way to create online animations without using Flash.
GIF only supports 8-bit colors meaning you can only use 256 colors.
GIF does support background transparency and can be used for line graphics, icons, and logos as well as for basic animations. Unlike JPG, image quality will not degrade with editing and re-saves.
GIF also has the smallest file size of all three file formats so shouldn't affect website load time at all if uploading logos or other designs to a site.
GIF is great for web graphics, such as logos, banners, and buttons, and for simple animations. It can only be used, however, for designs that use a limited color palette.
Don't use GIF for photographs or graphics that feature complex gradients and lots of colors.
PNG (Portable Network Graphics) was designed as an improved alternative to GIF. It's great for internet graphics and supports transparency in a way that GIF files don't.
PNG files support 24-bit colors, which includes 16.7 million colors, and features background transparency. Image quality will also not decrease no matter how many times the image is compressed or edited and re-saved.
Unlike GIF, PNG doesn't support animation.
PNG is a good file format to use for graphic image files such as logos, charts, and infographics. The ability to keep quality even with editing and compression makes it a good choice for when you need a small but high-quality file.
Despite being able to keep quality when decreasing the file size, PNG files do on average tend to be larger than JPG and GIF files.
Therefore, it is not the best choice to use PNG as the file format for lots of website images. Doing so can slow down your web page loading times especially if the website has a lot of media on it.
JPG, GIF, and PNG file formats all have their place but it's important to understand which to use for which purposes.
In understanding that, you'll ensure that all your images, whether photographs, animations, or graphics like logos, are seen in the most optimal format.

Is your marketing team ready to scale or ready to fail? Find out how Brand Hause can help you grow your business through marketing.