Bad website design is a sure-fire way to deter customers. If your building materials website is slow to load or difficult to navigate, among other issues, users will leave your website more quickly. At the same time, they may also stop considering your brand for their building materials needs.
Your website is vital to connecting with potential customers and promoting your business. To help maximize the effectiveness of your online presence, keep these 13 building materials website design tips in mind when creating or updating your site.
How to Design an Optimized Building Materials Website
Want to answer the question: "What makes a great building materials website?" Keep reading for 13 features that an outstanding building materials website should possess.
Building materials website design isn't just about how your website looks and what content is on it. Your website loading speed is also very important. Slow loading webpages are not user-friendly, and visitors to your website will bounce from the site if your webpages don't load quickly. Pages should ideally load in two seconds or less.
Some ways to increase website speed include:
Compressing image file size: images on your website can take up a lot of space, causing your website speed to slow down. Before adding images, always compress them to the smallest file size possible without losing quality.


Hosting videos off-site: videos don't need to be directly uploaded to your website, and doing so causes a slow loading time across the website. Host the videos on a platform like YouTube and embed them instead.


Removing content that isn't useful or valuable: content to take off your website includes duplicate content and pages that don't get many visits or bring traffic.
2. User-Friendly Navigation
Website visitors want to find the information they need quickly and easily. Therefore, your building materials website needs an easy-to-use navigation.
Your navigation should include main headings that cover topics that website visitors look for frequently, such as:
Products
Where to Buy
About Us
Contact Us
FAQs
Where necessary, you can add secondary headings. For example, under a "Products" heading, you may list your main product lines or the categories of building materials products you have.
Search Function
You'll likely have quite a few webpages on your website, especially if you sell an extensive line of building materials. Therefore, along with a user-friendly navigation, a search function is a must. This additional feature allows website users to find exactly what they need without searching through many levels of navigation.
While some users may come to the website with the intention of "looking around" and seeing what you have to offer, others come to the site knowing what they want to find out or what product they want to see. A search function allows those users to get to the page they want instantly and reduces bounce rate.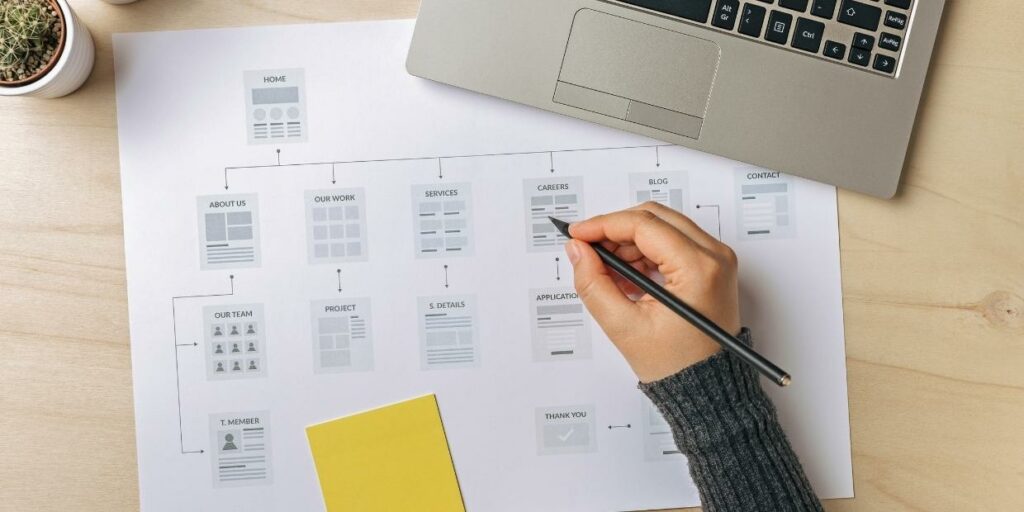 3. Easy to Read Formatting
Any text that is placed on your website needs to be formatted in an easy-to-read and user-friendly way. Some of the ways to increase the readability of your content include:
Separating texts into paragraphs of a maximum of five lines.
Using headings and subheadings to break up text.
Breaking up text with visuals.
Making use of bulleted and numbered lists.
Using a consistent font.
Using a minimum font size of 16px or more.
Providing users with an option to make accessibility adjustments.
Also, ensure you have a lot of white space around your text and keep formatting consistent across the board. For example, all of your product descriptions should be laid out in the same way.
Images are one of the most important parts of building materials website design. You should always use high-quality, professional photography and graphics.
Product images must show the items from a range of angles (if applicable to the material) and in all available styles, colors, and finishes. Including images of products being used in real designs is also a great idea.
Mock designs that allow customers to see how different products will look are a worthwhile investment. For example, if you sell roof tiles, you might have an image of a house where the color and style of roof tiles change as the user clicks on your different product options.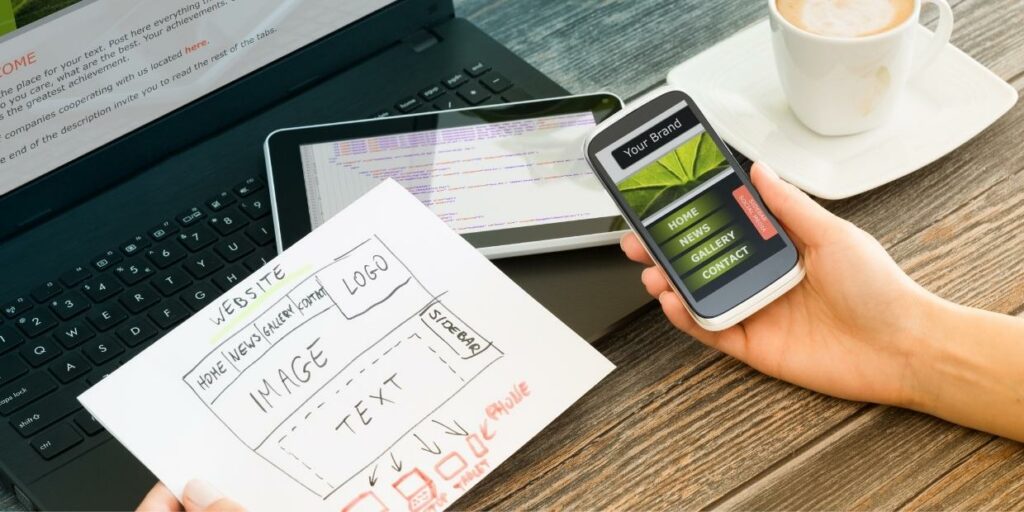 Visitors to a building materials website usually have questions about the products. Many of these questions will be the same, which is why having an in-depth FAQs page is vital.
Craft your FAQs page using questions that get asked a lot. Your salespeople and customer service representatives should have data relating to these frequently asked questions.
Once the FAQs page is created, have a system in place to update it. If new questions start getting asked a lot, be sure you add them to the page.
Answers to the FAQs should be to the point but give all the needed information. Where possible, link to more extensive resources, such as an article on your website covering the question topic.
Live chat is a great engagement tool to add to your building material website. It allows prospects and customers to talk to your team directly, learning more about your products and having their specific questions answered.
Being a high-involvement purchase, customers will want to know a lot about your building materials before making a purchase decision. Therefore, you must offer as many resources as possible to help with their research. Live chat is one resource that's highly worth considering.
Many live chat platforms will offer the option to use AI chatbots. While chatbot responses are appropriate at times (when your team is out of the office or to initiate a conversation,) ensure that customers can talk to real employees that are well-educated on your brand via live chat as much as possible.
Adding buttons to your social media accounts is another website must-have. Social media should play a big part in your marketing strategy, and you need to use every opportunity possible to get prospects to follow you and interact with your social media content.
Once a user is on your website, they may be enticed to look at your social media and use those platforms for additional research. This increases the chance that they will make a purchase. Even if they aren't at a point where they want to buy, you can continue engaging with them on social media, making an eventual sale more likely.
Add social media buttons in the header or footer of your website. You can also use calls to action (CTAs) where appropriate, encouraging website visitors to check out your social media accounts.
When discussing building materials website design, it's important to mention lead capture features. As soon as someone lands on your website, they're a lead. If possible, you don't want to let these prospects leave the website without capturing their information. Integrating lead capture features is an easy way to automate, track, and convert leads.
Some of the following are lead capture features that can be incorporated into your website design.
Quote Request Forms
Due to the cost of building materials being dependent on the project, website visitors may not have a clear idea of how much it will cost to purchase and use your products. That's where cost estimators and quotes come in.
As mentioned, you can add quote request forms to your website to offer this information. Not only will potential customers get an idea of their project's costs, but you'll also capture useful information, including their name, email, profession, and uses for the materials when they submit the request.
Email Sign-Up Boxes
Email marketing is a high-converting marketing tool that can really help drive sales and engagement. However, to make use of this platform, you need an email list with qualified leads. Conveniently, you can use your website to get these leads.
Having a pop-up ad for email sign-up is a good idea, but you need to make sure it is optimized. You want it to feel like it is part of your website's user experience instead of an annoying distraction. Keeping the style, colors, and font of your pop-up design similar to your website can help achieve a cohesive look and feel.
Pop-ups can be set to appear when a new user enters your website or when they engage with a certain page. You can also add email sign-up boxes to the sides of your webpages, at the end of articles or product descriptions, and in your footer.
The best approach is to ask for basic information (name and email, or just email) within these sign-up boxes. Your pop-up should have a clear and compelling call to action with a single button. It can also be helpful to include a reassuring note that you won't ever share their email.
Once they're on your email list, you can get even more information from these leads. For example, your first email to them could ask them to add email preferences, like if they want to receive all emails or would prefer B2B or B2C specific emails only. You can also ask them more about themselves at this point to collect information like occupation, what they will use building materials for, their location, and even their budget.
Lead Magnets
Lead magnets help capture information, especially email addresses, by offering something in return for the info. Resources to offer include eBooks, white papers, reports, and the like. Discounts in exchange for an email also act as lead magnets, for example, offering 10% off their first order in exchange for their name and email address.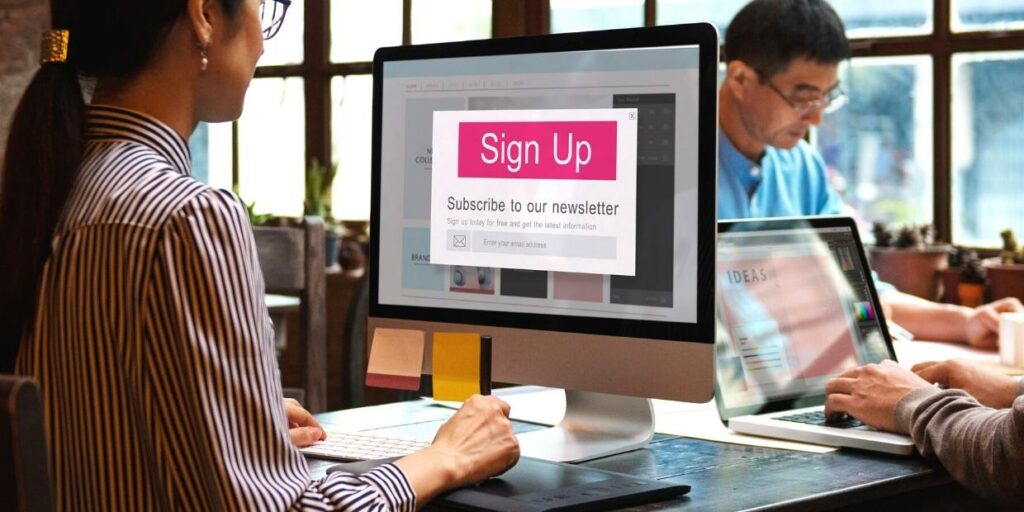 A feature that's relatively specific to building materials website design is a cost estimator tool. Whether residential or commercial, all customers will have a building materials budget. They will need to know the cost of using your products in their design. Having a cost calculator helps with this concern.
An embedded cost calculator allows website users to input specifications about their project and the product(s) they wish to use in order to generate an estimate. Once the estimate is given, it's a good idea to have a message appear that asks if they'd like to get a full quote from your team.
Cost-Related Keywords
You can also include keywords relating to building materials costs on the webpage with the estimator tool and your product webpages. For example, on a kitchen tile product page, add the call to action (CTA): "Want to know the cost to tile a kitchen? Use our cost calculator." In this case, "cost to tile a kitchen" will be the keyword that users enter on search engines, and you now have a chance to rank for.
10. A "Where to Buy" Tool
If you don't exclusively sell on your website, customers will want to know where they can purchase your products. Having a "Where to Buy" or "Our Suppliers" page is an ideal way to offer this information to customers.
If you don't have many distributors, you could simply list them. However, if you have more than ten or fifteen, installing a store locator feature on your website can be very helpful to visitors. With this feature, users can input an address to locate nearby distributors.
11. Responsive Web Design
Website users are more likely to view your website on a mobile device than a laptop or desktop computer. Therefore, an important part of your building materials website design process is making the site mobile-friendly.
The best way to do this is through responsive web design. Responsive website design means you have one website that's adaptive, fitting the screen correctly and being easy to navigate on any device.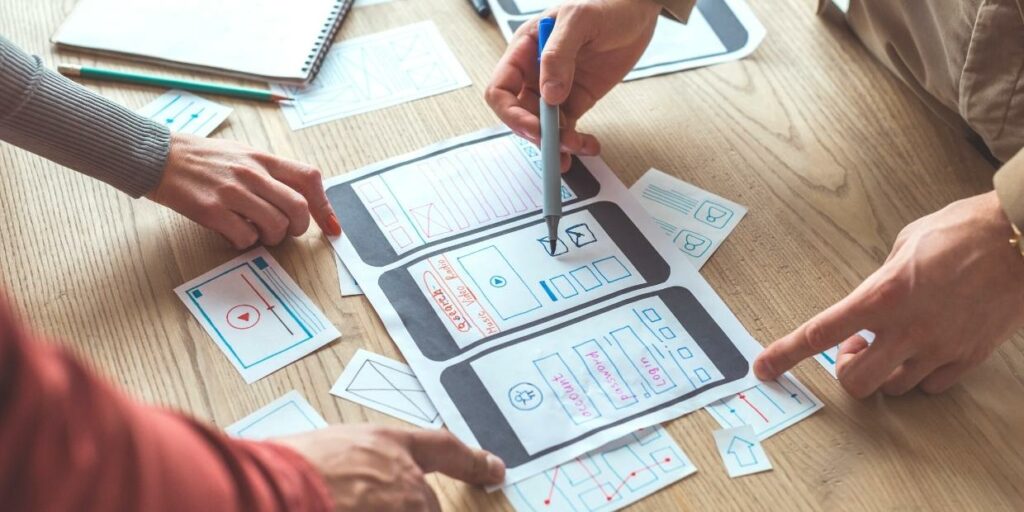 Adding calls to action that stand out is another of the many crucial web design elements for building materials brands. Once you have users on your website, you want to encourage them to take next steps and move them along the path to purchase.
This next step doesn't have to be a sale. CTAs can lead website visitors to visit other pages on the website, ask for a quote or consultation, or sign up for your email list, among many other actions that move them down the sales funnel. Having visitors act on CTAs while on your website also increases the time they spend on the site.
When adding calls to action, you need to make them stand out. Using buttons instead of in-text CTAs is a good idea. Also, keep your CTAs to the point, outlining exactly what you'd like the website visitors to do and what they'll get in return.
Having contact information on your website is a very simple design element but one that can't be missed. Due to the involvement of building materials purchases, prospects will probably want to get in touch with you at some point with questions and to discuss their projects.
Ensure you list all available contact information, including phone number, email address, and physical business address. If you have different contact information for different locations, products, or departments, specify this, for example, a US phone number and a Canadian phone number.
You can put basic contact information in your website's footer and have a "Contact Us" web page with more detailed information and a contact form.
Search Engine Optimization
When designing and adding content to your website, keeping search engine optimization (SEO) in mind is crucial. SEO is one of the most affordable and easy ways to drive organic traffic to your website. Building and implementing a successful SEO strategy will help your target customers find you more easily and grow your online audience.
There are numerous SEO techniques to keep in mind, such as analyzing your competitor's websites, optimizing images and content for search, or conducting a competitive keyword analysis.
Keep Your Website Users in Mind
Building materials brands generally have a varied client base, with different wants and needs. In the B2B market, you'll target a range of professionals, like builders and contractors, architects, and interior designers. If you also target the B2C market directly, these individuals will have different needs too.
Unless you primarily target just one group, your website needs to offer a different customer journey for each one of your prospects. But designing a website for multiple target audiences can be tricky, and you don't want your site to appeal to one group more than the others.
Creating separate customer paths that all start from the same central page can help users navigate with the confidence that you both understand and care about their specific needs.
Creating a user-friendly website is an important part of your marketing strategy. By following these building materials website design tips, you can develop a website that offers users all the information they need, helping them to research your brand and choose you as their building materials supplier.
READY TO WORK ON A WEBSITE REDESIGN? WE CAN HELP!