More and more companies are understanding the importance of using a calendar for their social media promotions. (If you aren't one of those companies yet, check out our post on why you need a social media content calendar and how to create one!)
But a lot of companies still don't have a formal planning or organization system for their editorial content.
An editorial calendar is highly important for planning the content you need to create and for setting out deadline dates. While you should re-promote evergreen content a lot, you should still be creating new content each month such as new blog posts, videos, and podcasts.
Ultimately, if you're undertaking any type of content marketing, an editorial calendar is a must. Keep reading to find out why.
What is an Editorial Calendar?
An editorial calendar is a document used to help plan and organize the content you need to create and promote. This  includes content like blog posts, videos, podcasts, ebooks, and even print articles and marketing materials like brochures.
If you create a lot of editorial content, it's worth using content marketing software to help you organize the process. This software includes built-in content calendars, task management, and some platforms offer scheduling tools.
Using content marketing software is especially useful if your content creation and promotion process includes multiple people.
You can easily assign content to be created, reviewed, and published by different people, keeping track of if deadline dates are being met.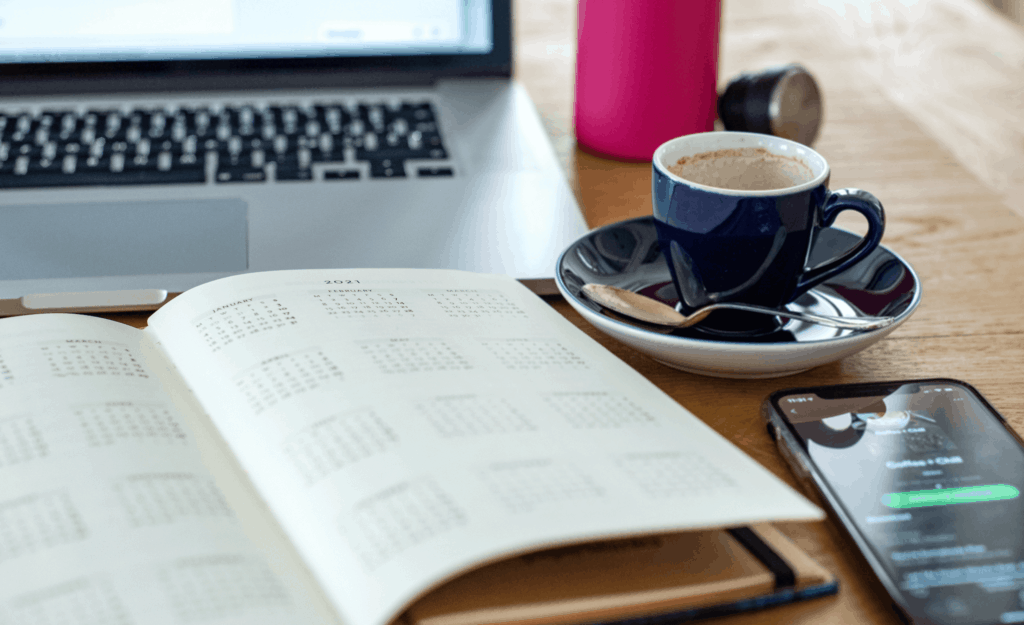 Alternatively, you can create your own editorial calendar. This is a good option if you have a smaller content marketing budget and/or have a content team of just one or a few people.
You can use Excel, Google Sheets, or a free online planner to hold all the information you need.
Why Do You Need an Editorial Calendar?
So why exactly is an editorial calendar a must?
The following are just some of the many reasons why you should be using an editorial calendar to plan and organize your content.
To Keep You on Track With Your Content Strategy
Your content strategy should be focused around your cornerstone content. These are core pieces of content that act as an overview of the main topics relating to your business. All the additional content you create should then relate to these topics.
As part of this strategy, you may plan to create one new piece of content a week for linking back to each of these cornerstone topics.
Using an editorial calendar helps ensure that all the content you are supposed to create is on track for being created.
By ensuring you follow the content guidelines you set out, you can effectively measure results and see if you're reaching your goals.
There will likely be events throughout the year that you want to create content for. These include industry-specific events, national holidays, and sales promotions you're running.
Having a calendar means that you ensure content for these events is created. If you set up a yearly calendar or use a CMS with yearly planning, you can mark off all events at the start of the year, adding new events as they arise.
Then when you get to planning for each month, you'll be reminded of the event-based content you must create.
To Help with Idea Generation and Keeping Track of Ideas
Having a content calendar can help defeat writer's block. Instead of starting each month/week/day with no ideas and needing to come up with something to create on the spot, you'll have ideas ready to go.
Try to dedicate some time at the start of each month to plan for the next month (or further in advance, depending on your content creation timeline.)
You can then choose your best content ideas and put them into your calendar ready for creation when you get to it.
Along with having monthly content idea generation sessions, you'll likely think of content ideas all the time.
Having a content calendar also means that you can keep track of these ideas whenever they arise. You'll then have less planning to do when you get to it and won't forget any amazing content ideas!
To Help with Content Management and Project Planning
Content calendars are necessary to help plan and organize whether you're a one-person team or have a content marketing team with multiple team members.
Firstly, they help keep track of what needs to be created. But you can also keep track of who is creating the content and when it's due.
You can keep track of who is responsible for editing and approving content, who is responsible for publishing it, and where it will be promoted, with deadline dates for all of these too.
Tracking Content Projects
Content calendars are additionally great for keeping track of projects such as a weekly series on a topic or guest blogs.
For example, if you hire a guest blogger to provide one post a week, the calendar will help in reminding you that you don't need to create content for that day (or more content than you need.) You'll also be reminded to get the content from the blogger in time to review and publish it.
INCREASE ONLINE REACH AND BOOST SALES WITH A VIDEO CONTENT MARKETING STRATEGY FOR SOCIAL MEDIA
To Help Create Content Consistently
It's important that you consistently follow a schedule for publishing content. For example, you may decide to upload new blog posts every Monday, a new podcast on Wednesdays, and new videos on Tuesdays and Fridays.
Viewers then know when to expect new content and should start coming back each week to see it.
If you don't post consistently, you'll end up losing potential prospects. An editorial calendar helps ensure you have all the content you need so that you can follow a posting schedule. 
To Help with Social Media Marketing
Your social media content should include editorial content promotions.
While you'll also have other social content such as engagement posts, polls, shared content, etc. you should also be sharing blog posts, videos, infographics, and any other type of content you create.
By having an editorial content calendar, you ensure that you have this type of content available to post on social media.
Like with content consistency, you need consistency in your social media posting. You may lose followers who enjoy seeing your new blog posts promoted on social media, for example, if you suddenly stop posting them because new blogs are not ready due to poor planning and content management.
To Help See What's Working and What Isn't
An editorial calendar is a great visual tool to help you see what has been created, published, and promoted in previous weeks and months.

By adding content statistics to your calendar (or cross-referencing with a results document), you can easily see what type of content is working for your goals and what isn't.
You can include information on metrics such as:
Traffic, reach, or views of the content 

How your SERP ranking has changed

Number of backlinks the content has


Performance of the content on each social media platform (reach, likes, comments, shares, link clicks) 

Performance of the content via email promotion 

Number of conversions, if applicable and trackable 
Make sure you're consistently checking the performance of your content making changes to your strategy as needed. 
What To Include In Your Editorial Calendar

1. The Piece of Content to be Created
Make note of the title, keywords to use, and the format it needs to be created in (blog post, video, whitepaper, etc.) Also, include any other information you feel needs to be noted such as word count for blogs or links that need to be included.
2. The Deadline Date for Content Creation and Publication
You can list multiple dates if content needs to be passed through multiple people for additions and editing. For example, you may want to include a date for a draft to be submitted, a date for review and editing to be completed, a date for final approval, and a scheduling and publication date.
3. Promotion Dates and the Platforms Content will be Promoted on.
This can be quite in-depth if you want to combine your social media and email marketing calendars with your editorial calendar. Or, it can be more basic, including just the promotion date and platform if you want to keep calendars with more information separate.
An editorial calendar is an absolute must for anyone undertaking content marketing. It will help keep track of ideas, deadline dates, and results. An editorial calendar sets the framework for successful content marketing, ensuring you have all the content you need when you need it.
If you've been thinking about implementing content marketing, get in touch with us today! We can help with planning and setting up an editorial calendar as well as creating content and measuring results. Contact Brand Hause now for a free content marketing consultation.

Build a strong, organic presence on social media with a proven strategic marketing partner.