Marketing via email is highly effective. Using email is a great way to raise awareness and get conversions. In fact, email marketing sees some of the highest returns of all marketing tactics. On average, you'll get a return of $40 for every $1 spent on email marketing!
Despite it being a platform with such a high rate of return, success isn't guaranteed. To increase your chances of email marketing success, testing your campaigns is crucial. This is done through A/B testing.
By making slight adjustments to your email campaigns and seeing which perform best with a subset of your audience, you'll increase the chance of getting a high open and click through rate and more conversions from your final send.
Keep reading to learn more about testing and all the benefits of A/B testing your email campaigns.
A/B testing (or split testing) is when you send two separate variations of an email to a small segment of your email list to see which variation performs best for a desired action. Using A/B testing ultimately helps you find the campaign that will bring the best results.
When creating your two variations, focus on changing just one element and keeping everything else constant.
Some elements to variate include:
Subject line
Offer being promoted
Email design
Call to action 
Email body copy
A/B testing can be very simple, for example, sending two different call-to-actions to see which gets the most clicks. Or, it can be more advanced, such as testing a range of templates and email elements to see which get the best overall results.

The main purpose of A/B testing is to see which variation gets the highest open and/or click-through rate. You can even see which variation gets the most conversions if a tracking link is used to show this data.
A/B testing is relatively easy if you're using an email marketing platform (or "email service provider") such as MailChimp.
These platforms will let you set up two separate campaigns that they will then send to two subsets of your email list. You can then either receive the results and make final/additional edits or have the "winning" campaign sent to your whole email list automatically.
Reasons to A/B Test Your Email Campaigns
A/B testing helps optimize your campaigns. By testing your content on a small portion of your audience, you can determine what content will work best at increasing your open and click-through rate.
Testing your content before a full send is easy and low cost. Assuming you're paying a fee for an email platform anyway, there will be no additional cost to A/B test, you'll just need a little extra time.
Some other benefits of A/B testing include:
1. Gaining a Competitive Edge
You'd be surprised how many companies aren't testing their email campaigns before they send them. Close to 40% of brands never test content while many more don't test for every campaign.
By taking the time to test your email campaigns, you're getting an edge over your competitors. It makes it more likely that you're generating the best possible results, while your competitors' emails are not necessarily optimized to garner the best results.
Having a better email campaign than a competitor can result in a consumer choosing your offer over a competitor's offer.
2. Increasing Open Rate 

Testing your subject line is a great way to increase your open rate. The subject line is the main element that will get recipients to actually open the email you send.
By testing variations of subject lines, you're likely to find the one that resonates best with your audience. This will result in more opens when the campaign is sent to your full list.
Additionally, if you consistently test your email content, your recipients will value your emails more. This alone can make them open a new email from you without paying much attention to the subject line.
3. Increasing Click Through Rate
Your click through rate is also going to increase when you A/B test your emails. Testing your call-to-action, content, and even the design of your email to find the best performing elements will result in more people clicking through on your offer or promoted story to learn more.
4. Increasing Conversion Rate and ROI 
Getting more people to open your email and more people to click on your links should result in more conversions and higher ROI.
To help conversions, remember to optimize your landing pages too. You can A/B test landing pages as well!
You could even create two different landing pages to link to separately (one landing page link in one email variation and the other in the second email variation) to see which gets the most conversions. To test this accurately, keep all other emails elements identical.
5. Improving Engagement
Testing the content included in the email, such as the offer or the blog posts you're promoting, will help you find content that's most appealing to your audience.
The more entertaining, educational, relevant and/or valuable your content is, the more engaged your audience will be.
This should help in getting higher CTR as well as more conversions and shares of your content, if applicable, once the landing page is viewed.
6. Gaining Valuable Information on Audience Preferences

As mentioned, testing content helps show what your audience values and engages with most. A/B testing can also help with your content and promotional strategy in general by giving information on audience preferences.
If one type of offer or one type of content consistently performs poorly in testing, it may be worth removing the content from all of your platforms.
For example, if very few people click through and convert on a free shipping offer, test its effectiveness on other platforms.
You could post the offer on social media, for example, and if it also fails to convert well, remove that offer from your list of promotions/incentives.
7. Decreasing Unsubscribe Rate 

By A/B testing your emails, you're making it more likely that your email list will enjoy and value the content they're sent.
Providing people with content that's relevant and valuable to them makes it less likely that they'll decide to unsubscribe from your email list.
Email Content to A/B Test
Now that you understand the importance and benefits of A/B testing, let's discuss what you can test within your emails.
The subject line is one of the most important elements of your email. This is what entices recipients to open the email. If the subject line isn't effective in getting opens,
then it doesn't matter how great the email content is, nobody will see it!
You should ideally be A/B testing your subject line for every email you send to find the one that gets the highest open rate.
Some things to variate in your subject line for testing include:
Word Order 
The way you order the words in your subject line can have an effect on open rate. For example, try putting the offer at the beginning of your subject line in one variation and later on in the second variation.
For example:
Subject Line Variation 1: Get free shipping with your next order using this code!
Subject Line Variation 2: Use this code to get free shipping on your next order!
Length

The subject line needs to be to the point. If it's too long, it won't be as easy for the recipient to quickly understand what the email is promoting.
It may also be cut off depending on what device and email platform the recipient uses. Try to keep subject lines between 60 and 90 characters.
Of course, all email subscribers are different in the type of subject lines they react well to. This is why it's important to test.
Try sending subject lines that get the same point across with a different number of characters, one shorter and one longer. Which gets the best results?
Topic 

Some emails may be promoting multiple pieces of content. For example, a newsletter style email promoting three new blog posts.
If that is the type of email you're testing, try variations with different topics promoted. You can simply use the content title/headlines as the subject line or edit them slightly.
Personalization
You can also test if using merge tags to place the recipient's name in the subject line improves your open rate.
You can also test the content of the email (or what is being promoted.) For example, if you're trying to incentivize purchases, test two different offers to see what works best.
Or, if you're promoting content, such as blog posts or videos, try different variations of this content.
You can then see what your audience is responding to best. You may think that one offer, for example, will work best at converting sales. But you could be losing out on sales if you send an email with that offer without testing other options.
Along with the actual content, you can test your copy and the words and tone you use to promote the content.
Most people don't want to be reading a lot of copy in emails to find out what is being promoted. Test different lengths of copy to see which works best.
Can you get your point across and receive the results you want with a smaller amount of copy? Or does adding an extra few sentences or an extra paragraph convert better?
Think about your tone as well. Is being upbeat and more personal better than being more professional? Or does using a positive tone make a difference over using a more negative one? This will vary based on what is being promoted, your brand, and of course your audience.
Lastly, think about how you space out your copy. Is it better to split up your copy or use longer blocks of text?
Many consumers respond better to personalized emails. This includes emails with offers and content tailored to them and being addressed by name. Personalization alone can increase your click through rate by up to 10%.
You should have each email recipient's name so this is quite easy to test. Use merge tags to test copy that addresses them by name and see if it does make a difference with your audience. You could also try including their name in the subject line as previously mentioned.
Creating tailored content requires you to have some data on your email recipients. For example, this could be data on past purchases or data they provide you when they sign up for your emails.
Use this information to segment your lists. Then test sending these lists personalized content that they'll relate to and find valuable.
Using visual elements including images, animations, and infographics, can help get your point across. They may also make your email more appealing to recipients. 
However, sometimes visuals are not necessary and may even detract from your email copy. Use testing to see if visuals help achieve your goals and which type of visuals work best.
While video will not play within most emails, you can include a video image with a link that will take the recipient to a place they can watch the video. If you think a video could help get your point across, you can also test that to see if inclusion of video is beneficial.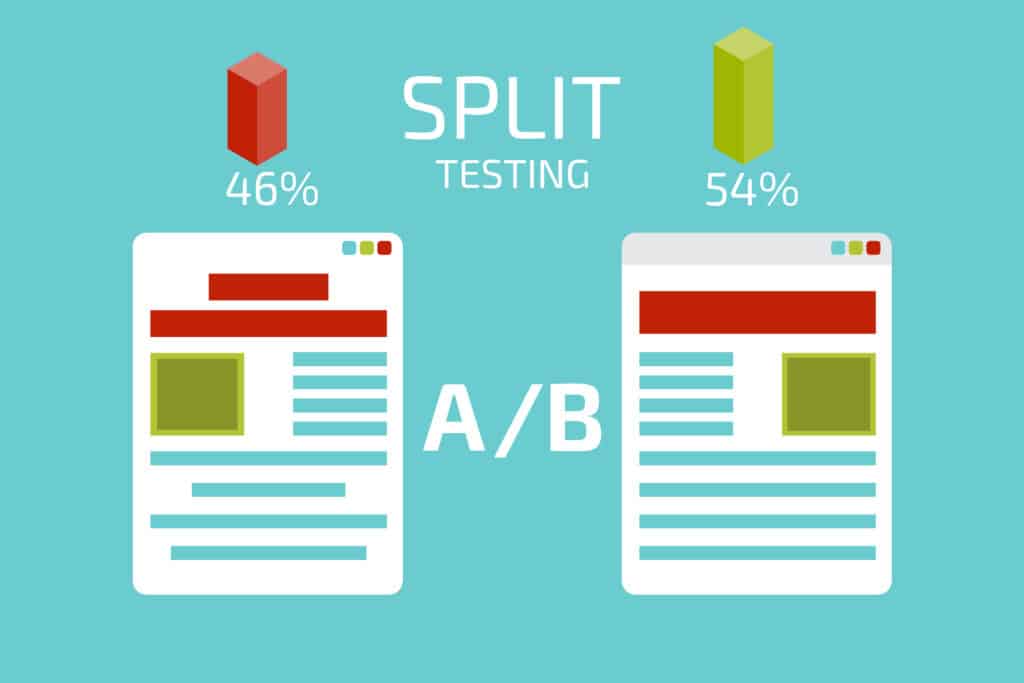 There are many ways to design your email. Most email platforms provide a range of templates. You can also create your own template or edit existing templates within these platforms.
Additionally, you can create your own HTML template outside of your email service provider and upload that to the platform.
This is something beneficial to test quite early on as you ideally want to keep consistency across all emails. This is especially true with emails in the same category.
For example, if you send a weekly newsletter, you don't want to be changing the design all the time!
Create a range of designs using your brand elements (brand colors, logo etc.) and test to see which perform best.
The call-to-actions (CTAs) that you use are one of the most important parts of your email. Therefore, CTAs are one of the most important things to test. Your CTA is one of the main elements that will make or break your click through rate (CTR).
Think about what CTA will be most effective at increasing CTR. Test those that you think will perform best to find the most effective copy.
Try to test generic CTAs like "Read more" with CTAs that are more specific to the content of your email, for example, "Get our marketing tips here."
Along with the call-to-action copy, think about if you will use buttons or in-text links. This is something else you can test to see which has the best results.
Tips For Running Successful A/B Tests
Once you've decided to start A/B testing your emails, used these tips to optimize your testing and get the best final results.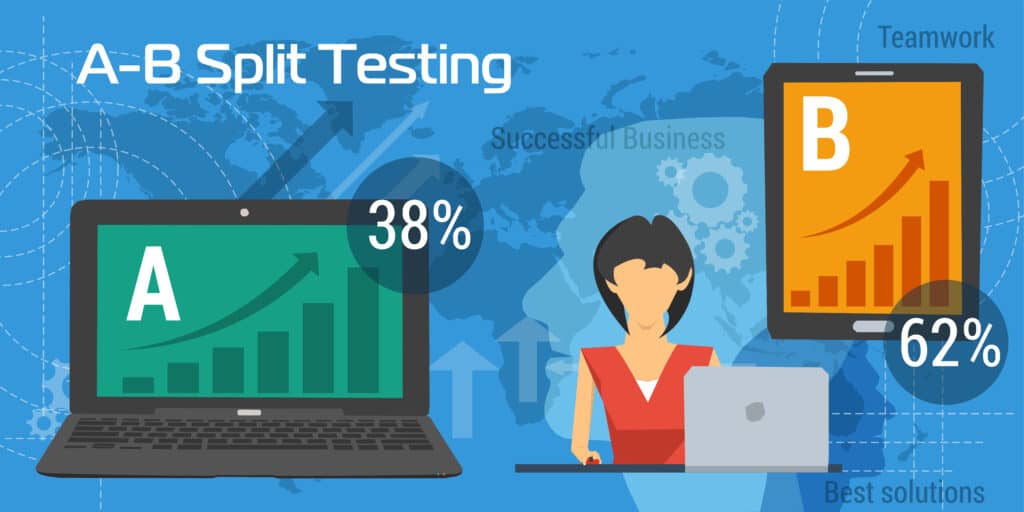 1. Create and Test a Hypothesis

Start your process of A/B testing an email campaign by formulating a hypothesis. Decide what you want to test, the change you will make to each variation, and which
variation you think will perform best.
For example, you decide you want to test how changes to your subject line can increase your open rate. You then decide you'll change where you place your offer in
the subject line.
You'll place the offer (such as free shipping) at the start of the subject line in variation 1 and nearer the end in variation 2. 
Your hypothesis may then be: I believe that placing the offer being promoted in the email at the start of the subject line will make the offer stand out more and therefore increase the open rate of the email.
Setting a hypothesis for each A/B test you conduct will help keep you focused on a goal and on getting the best results for a single objective.
2. Choose the Most Important Elements to Test
As noted earlier, there are a lot of things that you can test within your email. However, you don't want to be testing every element, every time.
Once you've decided the goal of your testing, for example, to see what increases click through rate the most, think about what element affects this the most. Then test variations of that element.
For example, you may think that the CTA is the thing that most determines click through rate. So, test different call-to-actions and/or different placement such as an in-text link vs. a button.
If you don't see much change compared to your average CTR with either variation, then CTA is most likely not the thing that most determines whether a link is clicked or not with your audience.
In that case, think about the next most important element, such as the offer being promoted or the body copy used, and test variations of that.
3. Test Your Most Important Emails First
Along with not testing too many email elements, don't begin A/B testing by testing every single email you send. Start first with the most important emails.
This could be an email promoting a big sale, new product launch, or special offer. It could also be your most frequently sent emails such as a weekly newsletter.
Once you test important emails, see what works, and adjust, you can start testing other email campaigns that you send.
Analyzing Results and Testing Consistently
Make sure you're analyzing both the results of your A/B test and the effect on results of your final send. Think about differences in the performance of your A/B test and why you may have seen drastic differences or minimal differences in results.
Also analyze the results of your final email when it's sent after testing. Compare it to similar emails you sent without testing. Are the results significantly different?
If not, then it may be worth testing and adjusting the campaign (or similar campaigns) again.
Also compare test results to the final send results. For example, if 10% of the winner test email's recipients clicked through, was this translated to the final send?
Did approximately 10% of your list click through? Again, if this was significantly less, it could be worth adjusting your sample, such as using a bigger subset of your list to test, to get more accurate results.
Consider other factors too such as the time you send the tests and the final email. You may see an offer do very well and contribute this to the fact that you tested first.
Test and Adjust Continuously 
However, you need to continually test and analyze results to ensure these improved results aren't due to another factor. 
If you send an email with a 10% off offer near a holiday such as Christmas, it could be the increase in shopping at this time that resulted in increased click through instead of being due to testing.
A/B testing will have a big impact on your email open and click through rate and even your conversion rate. Testing email elements allows you to understand what content appeals to your audience and makes them click to open your emails and click through on whatever you're promoting.
While you may still get good returns running email campaigns that aren't tested, you're almost guaranteed to get even better results by testing a range of email variations and using information you receive from this process to improve future sends.
We understand that the process of A/B testing email campaigns and even email marketing itself can be confusing and time consuming. If you'd like to implement an email marketing strategy and use A/B testing methods, we can help you!
Reach out today to chat with us about how we can help you set up email marketing campaigns that bring great results.

Do you want to drive traffic, convert leads, establish your brand, and see long term results from your marketing?