Keyword research is an important first step in creating content for search engine optimization purposes. To write web page copy and create content like blog posts and videos, you need to know what your target audience is searching in relation to your offerings.
These searches become your keywords. In understanding this, you can create content that is valuable to your target audience and can be found easily on search engine results pages.
Ultimately, keyword research aids in creating content that is useful and valuable to your target audience and helps increase your visibility on search engine results pages.  
What is Keyword Research?
Keyword research is the process of finding words and phrases that people put into search engines to find information.
The keywords you choose to use should be relevant to your offerings. They need to help potential consumers find your website and learn more about your products and services.
The chosen keywords need to be used within your content to try and rank well for them on search engine results pages (SERP).
Why is Keyword Research Important?
Keyword research is a main element of SEO, especially on-page SEO. No matter how great your content is, it's not a lot of use if people aren't searching for the topics you cover or you're using very competitive keywords that leave you ranking off of page one.
Keyword research helps you not only find content subjects but also lets you know if people are searching for these things and how many competitors you have.
Keyword research helps increase your visibility. You can find queries that you may not have thought your target audience was searching in relation to your offerings. You can then create content (along with other things) to get your brand and content in front of those searchers.
Keyword research also helps you understand your a audience more. This information can help in improving your offerings and marketing promotions along with improving search visibility.
How to Conduct Keyword Research
Keyword research is not too difficult. It's made a lot easier by using search engine marketing (SEM) software but can also be done successfully using free tools.
You'll first need to generate a list of potential keywords before narrowing them down based on various criteria.
Finally, use the selected keywords in your content and then analyze your traffic and SERP rankings, making changes as needed.
To start keyword research, you'll need to brainstorm ideas of keywords relevant to your business that prospects may be searching.
Start by thinking about the main topics your business relates to. You can then start listing subtopics off of those and finally use online tools to expand your list.
Create a List of Topics and Subtopics Relevant to Your Business
Write down topics relevant to your business. Think about what you offer and what could be being searched relating to your business. This could be the main products/services you offer, the main problems you solve, etc.  
Next, start listing subtopics under those main topic headings and even list potential keywords under each subheading. The subtopics are most likely the keywords you'll want to focus on most as they will be more specific and therefore likely less competitive.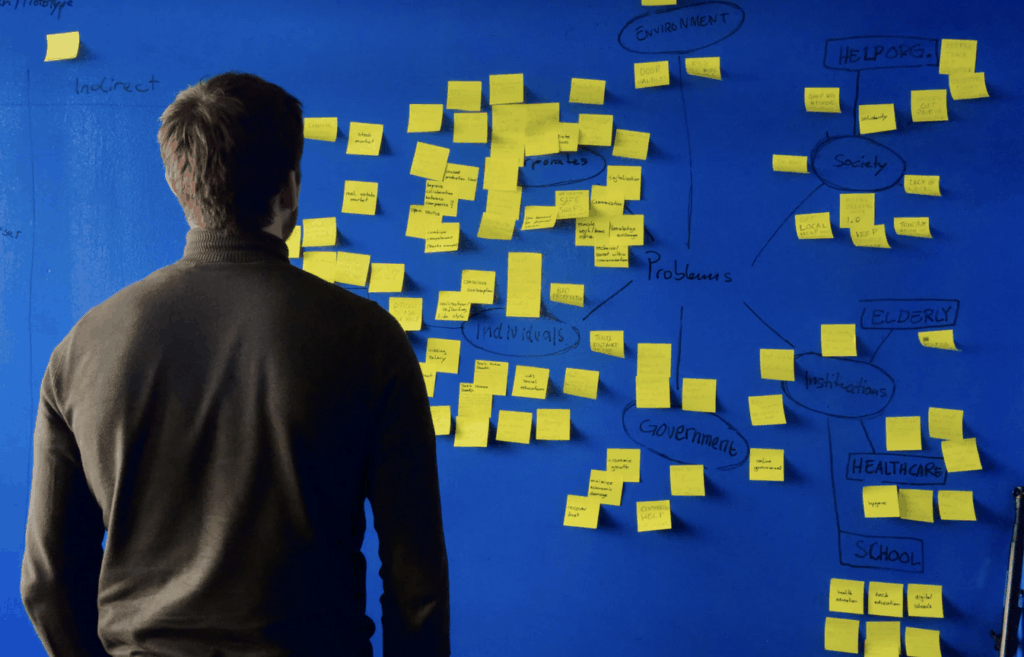 Keep thinking of ideas relating to each topic and subtopic until you get a decent list of potential keywords. You'll need to narrow this list down and check if these keywords are being searched, the search volume, and competition. But to start, just focus on filling out your list.
You can also take a look at what keywords you're ranking for already. You can do this through Traffic Analytics in Google Analytics. It will show the source of all traffic including queries searched for traffic coming from search engines.
If you have SEM tools like SEMrush or Moz, you can put in your domain and it will show all the keywords you're currently ranking for (more about this later!)
Discuss with Team Members
Talk to your sales and customer service departments too, if applicable. They may have ideas for keywords based on communication with customers and prospects. Ask them about the main questions customers ask and the main problems customers have.
Grow Your Keyword List with Online Tools
Now that you have a decent list of potential keywords, go to online sources to help with more ideas.
Some good online sources to help with keyword research include:
Google Search's "Related Searches"
Put your keyword into Google Search and then scroll to the bottom to see related searches.
Even as you type in the keyword, Google will show suggested searches. Look at these and see if any are relevant.
You can also use YouTube's search function for this.
Answer The Public is a good tool to use to see exactly what queries are being asked around your keyword. Understanding this can help with the direction of your content and with what to cover under your headings.

For example, if you're writing a piece of content on SEO, queries on Answer The Public for SEO include "What is SEO?", "Why is SEO important?", and "How does SEO work?"

You can use these to help shape your content. If you're creating a long-form piece of content, you could use these questions as your headings or create three individual pieces around these questions.

SEM tools can also get you this information and you can get some idea of the main queries asked by using suggested and related searches on Google.  
Google AdWords Keyword Planner is a great free tool to help analyze your keywords and narrow down your list.

You'll need to set up a Google Ads account and provide credit card information but you're not required to run paid campaigns to use keyword planner.
This tool will also show search volume for each keyword. Remove keywords with a very high or very low search volume. Those with a high search volume will be hard to rank for. Those with a low search volume may not be worth your time.
However, look at Google Trends before removing low search volume keywords. If their search volume is projected to increase, these could then be worth investing time in now.
Try putting a topic or subtopic into Wikipedia. The page you get will have a contents list with topics and subtopics plus articles linked in text and as suggestions.
These words and topics could be potential keywords.
Clicking through to each topic's Wikipedia page will then provide even more potential keywords to use.
SEM software is highly valuable for keyword research and your SEO strategy in general. Many platforms will give additional suggested keywords when you search a keyword.
These tools additionally have topic-based tools in which you can enter a topic and get back a list of related keywords and queries. These tools also provide a lot of other information on keywords, which is discussed  below.
2. Narrowing Down Keywords
Now that you have a good list of keywords, it's time to narrow them down. You could end up using all the keywords on your list, but you need to choose some to focus on first.
You'll most likely also find that some keywords are not popular or have a very high difficulty, meaning you're unlikely to rank well for them.
Consider the following when narrowing down your keyword list:
Have a Mix of Short-Tail and Long-Tail Keywords
Short-tail keywords are just one or two words. These are split up into head keywords, which are just one word, and body keywords, which are two or sometimes three words. Long-Tail Keywords are longer phrases made up of about three to six words.
You need to use a mix of these. Short-tail keywords often have a higher search volume but are much more competitive.
Long-tail keywords have a lower search volume as they're more specific. But due to that, you'll have less competition ranking for them. 
This means you'll rank higher and it'll be more likely that searchers will find and click on your link. Those searching long-tail keywords are often more qualified prospects too.
For example, the keyword "party planner" is a short-tail keyword with high search volume and high competitiveness. However, the long-tail keyword "Children's party planner in Seattle" is more specific and will have less competition than "party planner".
If you plan kids' parties in Seattle, then you'll also be getting highly qualified traffic from using this long-tail keyword, making conversions more likely. Even if you rank well for "party planner", a lot of searchers will not be in your area or not planning a children's party so cannot use your service.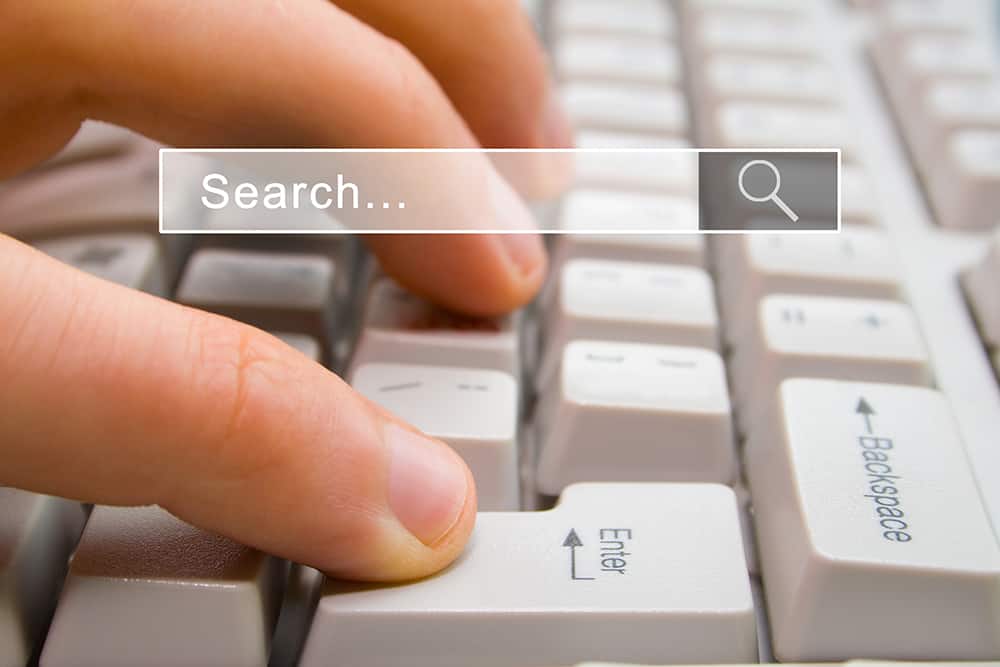 Look at Keywords Your Competitors Are Ranking For
Make sure you look at the keywords your competitors are using and ranking for. Search the keywords on your list and see if your main competitors' links appear.
You can also scan their website to see what keywords are being used in their content (including on product/services pages, in general content like on Home and About Us pages, in blog posts, and videos.)
This task is easiest, however, using SEM software. You can enter any domain and see the keywords they're ranking for, the position they rank in for each, and the piece of content.
Look at the Competition For Each Keyword
You also need to think about your competition for each of the keywords you're trying to rank for. Those you're competing with might be your main competitors, and/or they could be those you don't see as direct competitors.
Google will show you the number of pages appearing for each query. If you don't have access to SEM tools, this is a good way to compare the overall competitiveness of keywords.
Look at who is ranking on page one and in the top one to three spots. Think about:
How

you compare to these websites overall
How you can improve on the best ranking pieces of content
What you can do to rank higher
Based on the high-ranking domains, will it be possible to rank well?
If the top domains are high authority websites (these are generally nationally (or internationally) known pages, like Wikipedia or Buzzfeed, or well-known industry pages) then you may not want to try ranking for the keyword as it will be difficult to get to page 1.
If the highest ranking pages are smaller companies, blogs etc., then you're more likely to be able to rank.
Again, SEM software will help a lot with this. You can enter your keyword and get information on the level of competition and search density.
You'll also be given information on websites ranking for that keyword. You'll be able to see their monthly traffic, the total number of keywords they're ranking for, and the number of backlinks they have.
Use this information to help in understanding how and if you can outrank them.
To fully understand how competitive a keyword is and if you have a shot at ranking for it, you need to look at a few metrics.
Metrics to consider include:
Search Volume
This is the number of monthly searches for your chosen keyword. While you may think the higher the search volume, the better, that's not always the case. Unless you have a very high domain authority website, you may not be able to rank well for keywords with a high search volume.
Keywords that lots of people are searching are valuable to companies that have high domain authority, so they're going to want to focus on those as they can rank for them.
You most likely won't be able to compete with these domains. It's better to remove that keyword from your list and use a different variation. Always, also check the keyword difficulty though, every now and then a high search volume keyword isn't too competitive. These are great keywords to use but are quite rare.
Low Search Volume Keywords 
Additionally, remove any very low search volume keywords, even if they have a low keyword difficulty. You shouldn't spend time on keywords that very few people are searching for. 
As mentioned earlier though, do check out Google Trends to see if the keyword is expected to increase in popularity.
Keyword Difficulty
Keyword difficulty is a measure of the competitiveness of a keyword. It tells you how hard it will be to rank well for the keyword. As mentioned, use this metric along with search volume to decide if a keyword is possible to rank for and worth ranking for.
In general, use the following guideline when assessing keyword difficulty:
KD%
90%+ = Very very competitive: It's unlikely you can rank well for the keyword.

70% to 89% = Very competitive: It's difficult to rank well for but could be possible.
50% to 69% = Competitive: Ranking well is doable with work.
Under 49% = Less competitive: It's relatively easy to rank well for the keyword.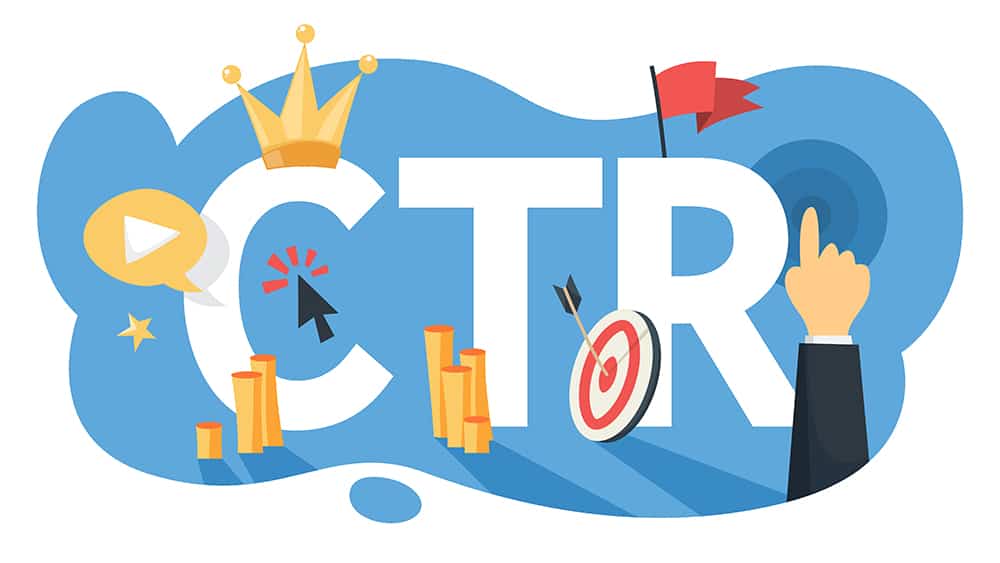 Click Through Rate

This shows the average CTR for the keyword. Obviously, this will vary based on your position on SERP.
Some searches are used to get quick information. Search engines will often display an answer on SERPs. For example, someone looking to convert "x" pounds to grams will likely be served the answer directly on the results page. This query will therefore have a low CTR.
Even if the query is relevant, if you're trying to get traffic from SERPs, don't spend much time on low CTR keywords.
Cost-Per-Click
Google Ads Keyword Planner and SEM tools will show CPC. Keyword research is also used for web advertising, specifically search advertising, which is why this is given.
If you're only wanting to rank organically through search, this metric isn't too important. However, it provides another overview of competitiveness. High CPC suggests the keyword is quite competitive.
If you have a very relevant keyword that is highly competitive, it could be worth using paid search advertising. It will then be necessary to look at CPC to see if paying to rank is worth it.
Paid search will display your link at the top of SERPs for your chosen keyword and will be labelled as sponsored. Although allowing you a spot above organic position one, these paid links have much lower click-through rate than the organic high ranking positions. 
Search volume, CTR, and CPC for keywords can be found in Google Keyword Planner and with SEM software. Keyword Difficulty is given when using SEM software.
Now that you have your list of keywords that are relevant and of an appropriate difficulty level, start using them in content.
This content can be landing pages, such as your About Us page, product/services pages, or  blog posts. You should ideally be using a mix of these, with each web page focusing on a keyword. You can also use keywords within your videos and in the video descriptions.
For web pages, you'll want to feature your keyword in the following places:
Page title
Page URL
Body copy 
Headings
Meta description
Image alt tags
Keyword Density
For your body copy (the main text on the page) you need to consider keyword density. This is the number of times the keyword is used.

The keyword needs to be included in your copy a certain number of times to help "spiders" that crawl web pages understand what the page is about and index it correctly.
Do not overuse your keyword however (keyword stuffing.) You can check keyword density using CMS tools like Yoast with WordPress or through SEM software content writing tools. If you don't have these, a good rule of thumb is to use your keyword once every 300-400 words.
Keyword Cannibalization
Make sure you're using each keyword only once for each content type. Using keywords in multiple pieces of the same content (for example, in three different blog
posts) is called keyword cannibalization.
This means that the pieces of content using that one keyword will be fighting against each other for rankings. This doesn't help you at all and will lower your overall rankings.
Duplicate Content
Content is also likely to be seen as duplicate by search engines if you do this, which affects your ranking. Duplicate content is when you have either published the exact same content twice or have two (or more) very similar pieces of content. This is seen as confusing to searchers and as a result, you get ranked down.
However, do repurpose one piece of content in different mediums. For example, don't write two different blog posts using the same keyword. But, you can write your blog featuring your keyword and then turn that blog into a video with transcript.
Avoiding Keyword Cannibalization and Duplicate Content Issues 
Make avoiding keyword cannibalization and duplicate content easy by keeping a digital list of the keywords you've used and a link to the content. 
If you're unsure as to whether a keyword was used before, simply search for it in your list. You can also search directly through your CMS.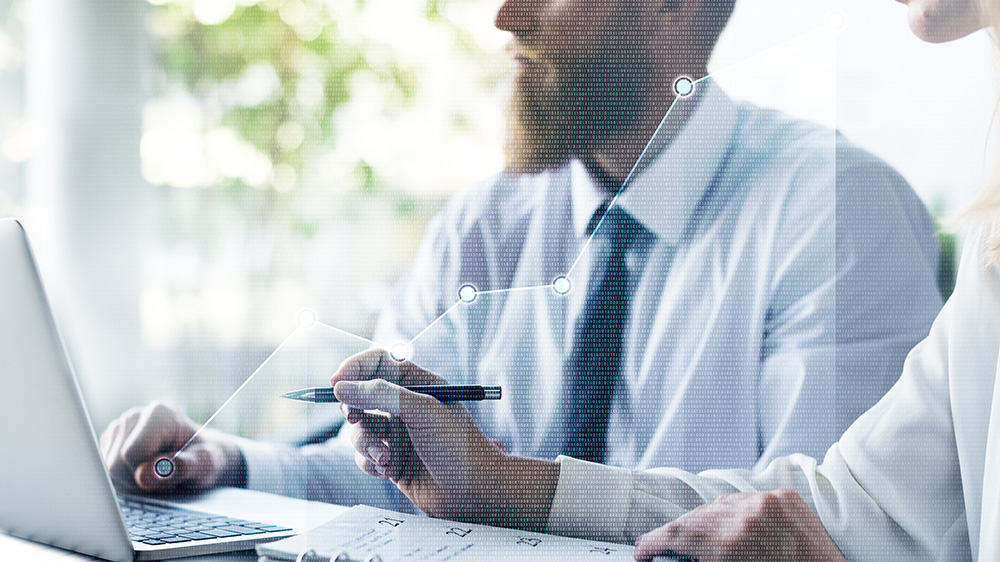 4. Analyzing Keyword Research Results
Once you've started creating content around your keywords, track and monitor your progress. Start by putting the URL into Google Search Console to ensure the page has been crawled and indexed by Google.
Then use Google analytics to assess traffic to the page and traffic sources. Ranking well is unlikely to happen automatically, it can take time for pages to rise up the
rankings.
Therefore, monitor your content every two weeks or every month to see if traffic and ranking are increasing. If not, think about how you can improve the content or how you can promote it more.

Make sure new content using your keywords is shared on social media and in email newsletters to increase traffic.
Remember That Keyword Research Is Just One Component of SEO
Keyword research and including keywords in content is a very important element of SEO. But to be successful, remember to still implement all other SEO elements.
This includes technical SEO to ensure your website is very user friendly and is easily crawlable. You also need to think of off-page SEO. This includes backlink acquisition and social media promotion of content.
Keyword research is essential in creating content for search engine optimization. It helps you understand what your target audience is searching for and what you have the ability to rank well for on search engine results pages. To create content that is valuable and visible to your target audience on SERP, you need to be using keyword research to form your content topics.
If keyword research is still a little confusing or if you don't have time to focus on conducting research, Brand Hause would be happy to do so for you. We can not only
conduct keyword research but can also generate content and help with your overall search engine optimization strategy.
Get in touch today for a free consultation to learn more about how we can help your business with your SEO efforts.

Need help getting started with keyword research? With the right research and SEO, Brand Hause can help you improve visibility, build credibility, increase organic traffic, and convert more leads.