We have previously discussed the importance of search engine optimization and how to implement it. But what should you not be doing when it comes to SEO strategy and implementation?
SEO techniques are crucial to ensuring your web pages appear on search engine results pages (SERPs). They will ideally also help your content in appearing high up on SERPs.
SEO techniques also have the benefit of improving the user-friendliness of your website and content. Good SEO also improves website metrics, such as increasing website traffic and lowering bounce rate.
While there is a lot to know about SEO best practices, you also need to know the common mistakes that business owners and marketers make when implementing SEO. Keep reading to learn more about these SEO mistakes to avoid.
The following are 19 common SEO mistakes to avoid.
1. Not Having an SEO Strategy
A primary SEO mistake companies make when beginning out with SEO is not having a clear strategy for implementing it and tracking results.
To be successful with search engine marketing, you need to create a set strategy that gets executed and analyzed. This mistake of not planning your SEO efforts is especially prominent within small and medium-sized businesses.
While planning strategy, you also need to coordinate departments as SEO depends on many areas of a business. This includes departments working on content, social media, website design and IT, and product/service development, among others.
Additionally, the person or team implementing SEO ideally needs to be trained in it. Alternatively, you'll need to hire new team members who have a strong understanding of SEO, whether that's a full-time employee or working with an agency or freelancer.
Some things to do to start planning your SEO strategy include:
Understand Your Current Position
This includes understanding what you need to optimize on your website and how to optimize your website, and knowing where you currently stand (in terms of ranking position for web pages, domain authority score, what keywords you're ranking for, etc.)
Evaluate Your Competitors
You should understand your main competitors' SEO profile to know how you compare in order to have a chance of outranking them. 
Look at their overall rankings, their domain authority score, the content they rank well for, the number of backlinks they have, the keywords they rank for (no matter where they rank), overall performance, and the like. 
Remember that you may also be competing with companies/domains that aren't your direct or top competitors in the marketplace. 
To have a chance of outranking these companies, you'll need to analyze them too to see what you can do to improve on the content they rank for.
Invest in SEM Tools
It's a good idea to invest in SEM software such as SEMrush. These platforms offer a range of tools to help with technical, on-page, and off-page SEO as well as with analysis. Additionally, create a library of free keyword and SEO tools to use, such as Google Keyword Planner.
Develop an SEO Plan
This includes creating task-lists of what needs to be done as well as creating schedules and assigning tasks and outsourcing services/staff as needed. Use the information found from undertaking the tasks above (ideally using SEM software) to help guide this strategy.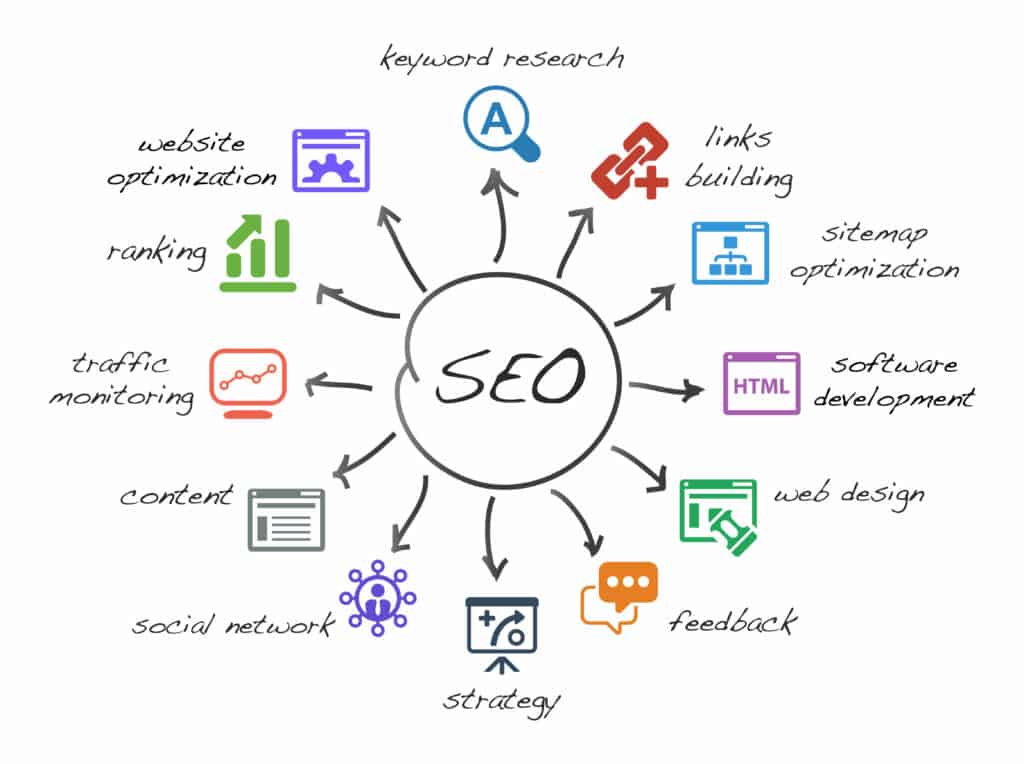 2. Not Knowing Your Audience
Just like with all marketing efforts, to be successful at SEO you need to understand your target audience, their needs, and what they're looking for.
You need to understand the problems they face that relate to your offerings. You also need to understand what queries they'll be using relating to these problems. What information are they looking for that you could provide them with?
To be successful, you need to be optimizing for the right queries and providing the best content for those queries. This means that understanding your audience and the exact keywords and queries they use is very important.
Use Data and Conduct Customer Research
To do this, make use of historical and real-time customer data and utilize keyword research techniques and tools. 
It can be very useful to talk with your customer service representatives or salespeople to understand the common problems customers face as well as the common queries, concerns, and complaints they exhibit.
3. Choosing the Wrong Keywords
Another of the SEO mistakes that many companies make is choosing keywords from a business perspective instead of from the point of view of clients.
You may start keyword planning with your own ideas. However, you need to expand that research to discover what is really being searched for relating to your offerings. You then must determine which of these queries you can effectively compete for.
You must look at what is actually being searched on Google and other suggestions relating to those queries. You can also use SEM tools to help you. 
These tools offer the additional benefit of showing competitiveness and trends relating to keywords as well as showing information on domains currently ranking well for them.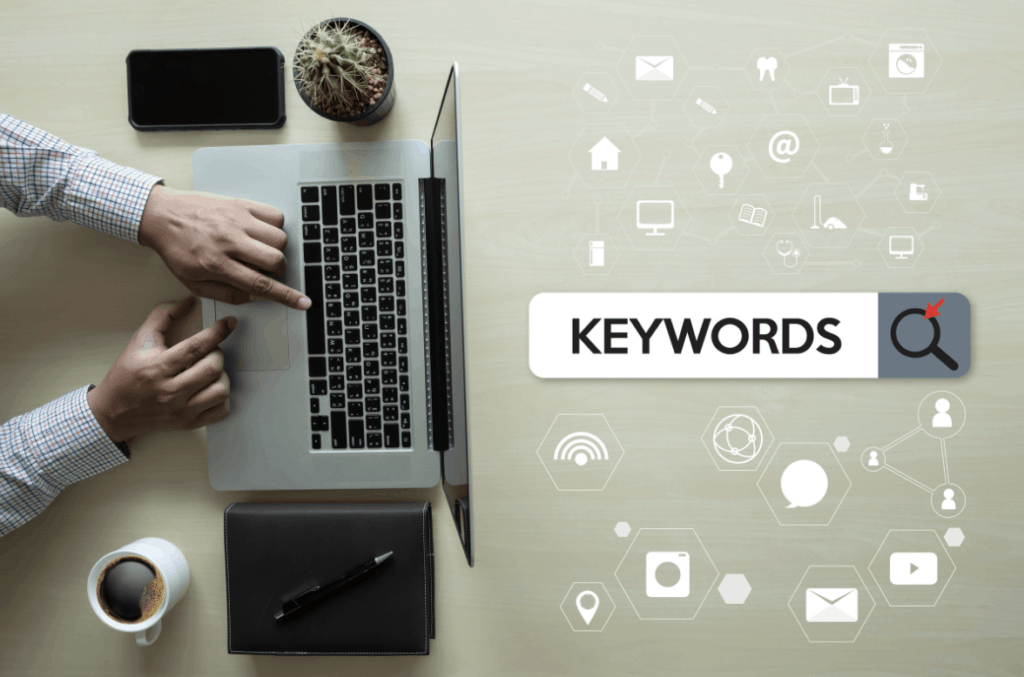 Long-Tail vs. Short-Tail Keywords
One overall trend is that people are more likely to search using long-tail keywords (queries of three or more words). 
However, an SEO mistake that frequently occurs is companies focusing most of their efforts on short-tail keywords (queries of one or two words). 
Long-tail keywords also have the benefit of often being less competitive and more niche leading to more qualified leads.
Some other keyword related SEO mistakes include:
Creating low-quality content just to use a keyword.
Using multiple target keywords in one piece of content.
Trying to include multiple topics in one piece of content.
Using a keyword more than once in a content medium, for example, having two blog posts with the same target keyword.
4. Creating the Wrong Type of Content
Choosing a keyword is just one part of creating great content for SEO.
The content should provide all the information needed and be better than what is currently available online. It should effectively provide all information needed for the query being searched. The best content additionally shows your expertise and authority and is highly trustworthy.
Your content also needs to be published in the most desirable format for those searching for it. This involves understanding the format in which your audience wants to consume content. For example, if your audience predominantly searches on YouTube, ensure you are using video as a content medium.

It's recommended to create each piece of content in multiple formats. For example, creating a blog post, podcast, video, and simplified infographic. Of course, measure the success of each medium and remove those that don't bring consistent results.
Creating your content in the wrong format can have drastic negative effects even if the information included would appeal to your audience.
5. Creating Unoriginal Content
Another of the SEO mistakes to avoid is creating unoriginal content. You should research the content that you'll be competing with. However, always create your own unique pieces. Use competitor research simply as inspiration and/or to discover ways to improve on content already available.
Of course, never duplicate content (discussed more below) unless it is your content that's repurposed in different mediums. For example, turning a blog post into an infographic.
Don't try to re-word content either. Do your own research, include your own and your team's knowledge, and add your own twist to create an informative and authoritative piece of new and unique content.
Along with creating unique high-quality content, you should be updating your content frequently. The bulk of content needs to be evergreen content that's authoritative, shows your expertise, and is always relevant (as opposed to trending content that is relevant for only a short period).
However, there will always be ways to update your evergreen content. You cannot be successful with your SEO in the long term if you never refresh your content. If you make this SEO mistake of posting once and not updating, then your ranking will suffer over time.
Some reasons to update content include:
It's Outdated: there may have been new stats released or market changes that need to be reflected in your content. 
It's Incorrect: new information coming to light may make your content incorrect in the current environment. 
It's Not Up to Date with SEO Trends: algorithm changes and changes to how keywords are understood by Google can mean that your content needs to be adjusted to follow the new guidelines.
Also, be sure to check internal and external links to ensure that you don't have any broken links within your content. If they are broken, replace or remove external links and fix or redirect internal links.
7. Having Duplicate Content
A major SEO mistake to avoid is having duplicate content. Duplicate content on your website can confuse visitors (and search bots) and negatively affect your rankings. 
Duplicate issues that may arise include: 
Duplicate "main" content: for example, having two blog posts with the exact or almost the same body copy.

Duplicate title tags.

Duplicate meta descriptions.

Duplicate H1 and title tags.

Duplicate target keywords: having two or more pieces of content using the same keyword, even if all the above elements are different (known as keyword cannibalization).  
If you find duplicate content, edit each piece so that each is unique.
In the case of duplicate keywords within content, choose the best piece of content to keep live. Update it with any useful information found in the duplicates. Then unpublish the duplicates making sure you use a 301 redirect that will direct anyone that comes across the unpublished links to the relevant piece of content. 
Other duplicate issues, such as duplicate title tags, are discussed below.
8. Not Using a Meta Description
A meta description is a brief overview of a piece of content that is shown on SERPs. It consists of about 160 characters and appears as two to three lines of text under the web page title and URL.
While meta descriptions aren't as important to search engine algorithms as they once were, it's still important to optimize your meta description.
Doing so allows you to give the best overview of your content to searchers which can help increase click-through rate. It also offers another place to put your keyword and provides extra information on your content.
If you don't add your own meta description, Google will automatically generate one for you.
Duplicate Meta Descriptions
Like with the main copy of web pages, you need to have unique meta descriptions for each web page.
Duplicate meta descriptions can confuse search engines and result in pages not being ranked as well as they should.
Example of optimized meta descriptions on Google relating to the query "nail art designs"
You'll want to add a brief and descriptive title tag to each web page. Make sure you use a unique tag for each page that's not too long. Titles should have a maximum of 60 characters to avoid them being cut off on SERPs.
Duplicate Title Tags
Each page on your domain should have a different title. Even if the copy is different, using the same title for more than one page is confusing to users and to search engines.
Search engines may only rank one of these pages for the relevant queries and you won't be able to choose which piece ranks. Even if both rank, you may see lower rankings than you would have if you had just one piece using that title.
H1 tags help search engines understand what your content is about. Without an H1 tag, it will be harder for search engines to understand your content's topic. This can affect what queries you rank for and where you rank.
Duplicate or Multiple H1 Tags
While you need an H1 tag for each web page, only use one H1 tag per page, and don't use duplicate H1 tags across your website.
Don't use the same title tag and H1 either. While they can be similar, do have some variation between the two.
11. Not Using Schema Markup
Schema markup is code added to the HTML of your website pages. It is another medium for telling search engines what your webpage is about, allowing it to be indexed accordingly. 

While adding schema markup is unlikely to drastically affect your ranking on SERPs, it makes it more likely that your webpages will show up for the queries you're targeting. 
12. Not Using Image Tags/Alt Tags
Using image tags, also called Alt tags, offers you another chance to explain your content to search engines and visitors.
Search bots can't understand an image alone, so you need to explain what the image shows. Try to use images that add value to your content and don't just place images for the sake of it. If they strongly relate to the content, the alt tag you use will be able to include keywords too.
Image tags also serve their original purpose of being a way for sight-impaired visitors to understand an image's content. They can also help other visitors if the image happens to not load.
13. Not Upgrading to HTTPS Status
Websites that aren't secure have "HTTP" before the domain, whereas secure websites have "HTTPS" before the domain. While this may seem insignificant it's important, especially in relation to SEO efforts. 

A secure website indicates authority to search engines, and they give preference to those with "HTTPS" status when deciding where webpages rank on SERPs. A secure website is also more assuring to visitors, especially if you want them to shop on your site or provide their information in some way. 
14. Not Linking Externally
External links that point to other domains are also highly important to include in your content. But remember that quality is more important than quantity for these links.
You should only link to well-ranking, relevant, and authoritative websites. If a website has linked to you, linking back to them is useful too if there is a relevant place to do so.
15. Not Linking Internally
Along with not putting effort into adding external links, another of the SEO mistakes many businesses make is not having a good internal linking structure. While there's a lot of focus on gaining backlinks to help with SEO, internal linking is highly important too. 
You need to be linking to your top-performing, high-level pages within most pieces of content. However, also link to other pages that move down your content hierarchy if they relate to another piece of content. 
As pages move down the content hierarchy, the number of times they're linked to internally should be decreasing. 
Don't include internal links if they aren't relevant just for the sake of including them on a web page. 
However, a good content strategy should mean that all content falls under one of a few topic clusters. This means that there should always be relevant internal linking sources available for each new piece of content. 
Some benefits of internal linking include:
It makes crawling your website and indexing new pages easier. This is especially true for deep-level pages.

It eliminates the chance of having orphaned pages (pages that are not connected to anywhere else on your website making crawling and indexing unlikely). 

It helps show which topic clusters and pages are the most important. 

It helps in driving traffic to other web pages on your domain and increasing time on site. 
Anchor Text
When linking internally or externally, you need to consider the anchor text you use too. This is the portion of text that you hyperlink with the outbound link. 
Anchor text should let the reader and search bots know what the link is about. What will they get if they click the link? It should provide context if the anchor text was pulled alone. 
For example, using "see more here" as anchor text wouldn't provide any information on the link content if that text was seen alone. Whereas using "free social media content calendar template" as anchor text shows exactly what is provided when the link is clicked. 
Be sure to also use a variety of anchor text phrases across your domain.  
Broken Links 
As discussed, broken links are an issue too. So, in both the cases of internal and external links, be sure to check them frequently to ensure they aren't broken. 
Most SEM tools can generate reports that outline broken links on your domain. Fix internal links or redirect them. Remove or replace broken external links. 
16. Not Having a Mobile Friendly Website
A main part of technical SEO and good UX is having a mobile-friendly website. Over 50% of Google searches are made on mobile devices so you need to have a website that's optimized for mobile.
Having a website that doesn't work well on mobile can drastically hurt your rankings. The best option is to use responsive website design (RWD) but just having a mobile version of your website will help a lot too.
17. Leaving a NoIndex or NoFollow Command on your Website
If you have a NoIndex meta tag in your website pages' code then you'll stop them from being ranked at all. This will completely stop your pages from coming up on search engine results pages making all your other SEO efforts ineffective.
While developing your website, leave NoIndex on. But always ensure you've changed it once the website is live to ensure pages are indexed. 
There may be a few pages you won't want indexed, such as special offer landing pages, but for the most part, you'll want to ensure NoIndex is deactivated on each page you publish (so that they have an "index" meta tag).
18. Not Utilizing the Right Tools or Analytics
One of the many SEO mistakes people make is implementing SEO tactics and then not using the right tools to track results and improve on efforts.
There are a range of free and paid tools that you should be using. These include SEM software providers, such as SEMrush or Moz. SEM tools offer many features, including keyword research tools and in-depth information on performance and rankings for your domain and your competitors' domains. 
You should also be using Google's tools such as Google Analytics and Google Search Console.
Google Analytics: this free tool provides data to help understand your website's performance. You can find information including the amount of traffic to your website and traffic sources as well as time spent on site and bounce rate. Accessing this information is critical to assessing and improving your SEO efforts.
Google Search Console: this tool shows things such as domains linking to your website and technical errors that have occurred. You can also enter each web page address here to check it has been crawled and indexed.
Of course, also spend time on Google itself. Search your domain and keywords you're trying to rank for to see where you appear on SERP and who your main competitors for the top ranking spots are. You can also get some keyword inspiration through features such as "suggested searches."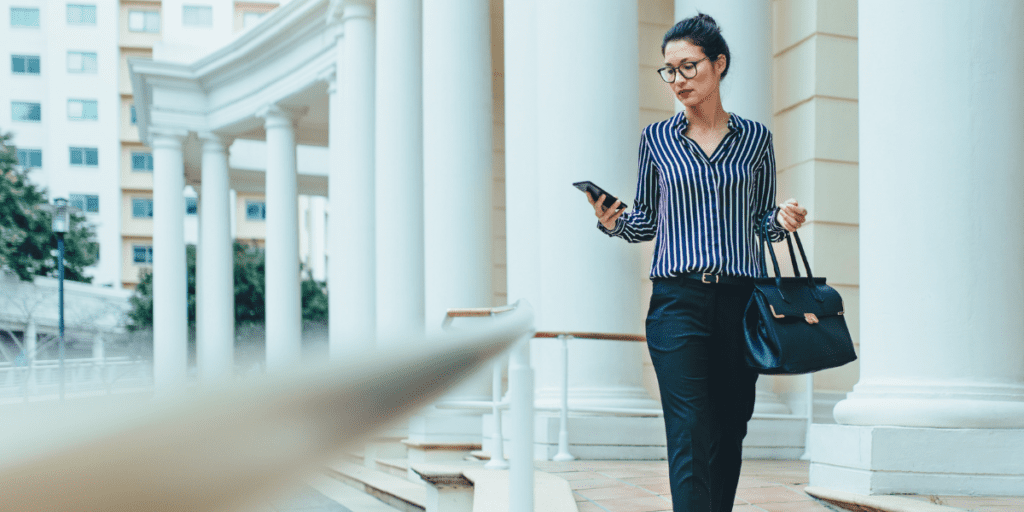 19. Not Having a Local SEO Strategy
A mistake that many small businesses make is not focusing on local SEO. While local companies may try to rank for a few nationally or internationally searched keywords, they need to focus on techniques that reach individuals in their area through local SEO.
Many businesses, however, will make the mistake of searching for more general keywords to use and trying to compete with larger national or multinational companies.
There are two issues with this. Firstly, as a small business, it is unlikely that you'll ever be able to compete well with these large companies. They will have high domain authority scores and lots of backlinks, among other things that make them hard to compete with on SERP. Secondly, you won't be getting qualified traffic.
Even if you rank well for a query relating to your business such as "Affordable Dog Groomer," searchers from across the country will be finding your link.
This is not much use if you only serve a certain area of the country. Instead, you should be trying to rank for "Affordable Dog Groomer in your location". This query will be less competitive and will return only qualified traffic – those that are actually in your area and can make use of your services.
Along with using relevant local keywords, you should ensure you are listed in all online business directories, such as Google My Business, and include location-specific information on your website such as your business address in your website's footer.
SEO can be complicated, especially if you're new to it. However, it doesn't have to be overly challenging to implement, and by noting these SEO mistakes to avoid, you'll be much more likely to create an SEO strategy that brings results. 

Need help with optimizing your local SEO strategy? Let Brand Hause help you with proven local SEO practices and tactics that will help your business gain visibility, stay relevant, and get found by motivated local customers.