Across many industries, the demand for sustainable products is growing. The building materials industry is no different. Both industry professionals and end consumers are increasingly favoring eco-friendly materials for building projects.
If you are a sustainable building materials brand or plan to move into this niche, you will likely want to know how best to market green building materials. In this article, we cover this topic in-depth and offer some top tips on creating a successful marketing strategy for sustainable building materials.
What Are Green Building Materials?
Let's start by answering the question "What are the characteristics of a green building material?" Green building materials are those that limit or avoid environmental damage.
This includes limiting harm during the sourcing of raw materials, throughout production, and during the transportation of end products. Many green building materials also add to the eco-friendliness of the design they are used in.
Some questions you'll need to cover when marketing green building materials to consumers include: 
Where do you source your materials?
What is the manufacturing process like? What makes it sustainable?
How much waste will be generated during production? What are resource inputs like? For example, how much water is used during production?
What is your transportation and shipping process like?
Do you have an end-of-life plan for materials? For example, a recycling program for used building materials?
How Important Are Green Construction Materials in the Building Materials Industry?
Before discussing how to market green building materials, it's important to discuss why producing sustainable materials is becoming more and more necessary.
The market for eco-friendly building materials is growing exponentially. Consumers are becoming increasingly interested in reducing their carbon footprint and using products that are sustainable and cause as little damage to the planet as possible. This trend covers the building materials used in both commercial and residential projects.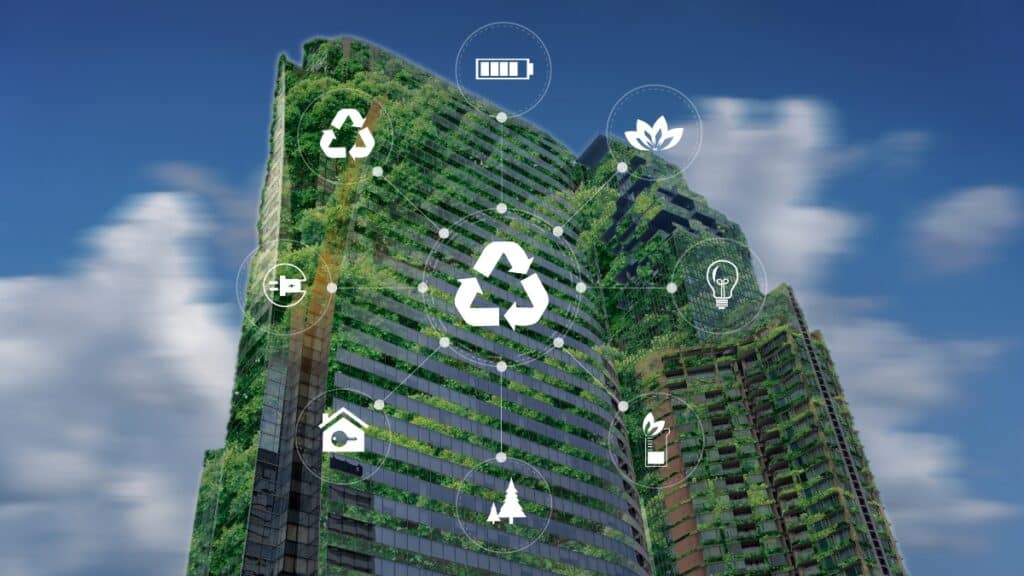 In addition, many commercial construction and design projects now have to meet sustainability standards and regulations, which can be achieved through the use of green construction materials.

For example, the construction of a net-zero building relies heavily on sustainable building materials. The use of these materials in achieving net-zero and environmentally friendly building is two-fold. Firstly, the eco-friendly materials themselves cause little damage to the planet. Secondly, most sustainable building materials also contribute to the energy efficiency of the building, such as having better insulating qualities to keep more heat in.
A term you'll hear frequently when discussing how to market green building materials is greenwashing. Greenwashing is when companies promote products as being more sustainable than they actually are. It's effectively false advertising that uses a lot of buzzwords to suggest the product or brand is eco-friendly or sustainable when it really isn't.
Some common greenwashing techniques include:
Using lots of sustainability buzzwords.
Not backing up sustainability claims and/or being very vague about them.
Not fully disclosing who the brand's parent company is because they are unsustainable and a major polluter.
Not being transparent in general, for example, hyping up a few sustainable elements of their products and hiding their unsustainable practices.
Why Should You Avoid Greenwashing?
Greenwashing needs to be avoided! If your products aren't eco-friendly and sustainable, then don't promote them as such. Either promote them truthfully or change your process to actually make the building materials sustainable.

Always be transparent about exactly how sustainable your products are too. For example, if the manufacturing process and materials used in production are sustainable but your transport methods aren't, make that clear.

You can do this in an honest way and one that shows you're aware it's a problem but are trying to fix it. For example, "Unfortunately, our transportation methods are not net-zero emissions at this time. However, we're working towards that goal to ensure that our entire process is 100% sustainable."
Tips for Marketing Environmentally-Friendly Building Materials
1. Get to Know Your Target Market
The first step in creating a plan to market green building materials is to really get to know your target market. What are client needs and wants in this sector? How do the needs of commercial clients looking for sustainable building materials differ from residential clients looking for the same thing?

Consumers and clients looking for sustainable building materials will have different demands and needs from those looking for traditional materials. If moving into green construction materials, you need to study this market in-depth to create products and marketing campaigns that appeal to them, stand out above the competition, and best solve the prospect's problems.

Just labeling and promoting your materials as green and adding basic features to make that true isn't enough! You must create marketing campaigns that promote the unique selling point of your sustainable building material brand that relates to your target audiences' needs.
Commercial Clients in the Green Building Materials Sector
Commercial buyers will be most interested in the cost savings over the lifetime of the material, not necessarily at the point of purchase. They will want to know what tax rebates they can gain from using these sustainable materials as well as how the materials will contribute to the environmental goals of the project.

These clients will also look at the factors they would look at if purchasing traditional materials, such as how the building materials fit into their design and what features the materials have, for example being easy to clean, long-lasting, fireproof, etc.
Residential Clients in the Green Building Materials Sector
Residential buyers looking for eco-friendly building materials tend to be most concerned with how the materials look and perform. Across many sustainable product categories, there are unfounded worries that the products won't look as good or be as high-quality as their traditional counterparts.

Therefore, it's important to use incredible product images in your marketing and prove that your products are just as on-trend and high quality as other brands.

These clients also want to know how the upfront cost and features of sustainable building materials compare to traditional ones. For example, will kitchen tiles still be splashproof and easy to clean with standard cleaning products?

Due to this, you must effectively promote all of your product line's benefits, showing that they match or exceed traditional products. You must also outline the lifetime savings of using sustainable materials, even if they cost a little more upfront.
2. Conduct Competitor Analysis
A decade or two ago, you might have been one of the only companies on the market producing green materials for construction in your industry sector. Today that is not the case.

More brands are adding green lines or moving to a 100% green building materials model. Therefore, a primary step in planning how to market green building materials is to do an in-depth competitor analysis.
Things to look at when assessing your competitors' products include:
Pricing structure.
Product features.
Value to the consumer.
Production processes: how much of their supply chain is sustainable? For example, are only the materials used to create the end building material eco-friendly? Or is transport and manufacturing also sustainable?
Where they're marketing their products.
Marketing promotions being run: what is the messaging? Who are they targeting? What are they doing to differentiate themselves?
Resources offered to add value: for example, do they have content on their website that provides advice on choosing the best eco-friendly building materials, and the like?
3. Choose a Green Building Materials Unique Selling Point (USP)
Being a green construction materials company in the building materials industry as a whole is a unique selling point, or USP. However, that alone isn't enough when trying to stand out among other sustainable brands. As discussed above, you need to create a specific USP relating to your eco-friendliness to differentiate your brand and attract your target audience.

For example, is your entire manufacturing process in the US? Or do you incorporate ethical elements by using raw materials that are both sustainably and ethically sourced and produced to high welfare standards? These are just a couple of the great USPs to promote within the green sector.
Emphasize No Loss of Benefits
Along with promoting your sustainability USP, make it clear that consumers don't lose anything when choosing green materials over traditional ones, they only stand to gain. Show them that the materials look the same as traditional ones, have all the same features, and are just as long-lasting, if not more so.
4. Use Eco-Friendly Packaging
Many companies create a product that is eco-friendly but then use packaging that is not, for example, using materials like newly produced plastics that can't be recycled. Doing this undermines your green brand and could result in customers concerned with sustainability opting to buy from a competitor who uses sustainable packaging.

Ensure the packaging you use is the most eco-friendly possible and can be recycled. For example, create cardboard packaging from recycled materials and ensure it can be recycled again. Or use plant-based or recycled plastics that can be recycled or are biodegradable.

With this in mind, even if all the packaging you use is sustainable, use as little of it as possible.
Think About Product Disposal Too
Promoting a sustainable end-of-life process for building materials is crucial too. For example, can your building materials be recycled when they are replaced? Having a program where customers can return building materials to you or a partner for recycling at no cost is a major plus to promote.
Those who market green building materials will be aware that many of these materials are priced higher than their traditional counterparts. Producing green building materials will most likely cost more than producing the same type of standard products (with the same benefits and quality level.)
Therefore, you'll need to pass these costs on to the consumer by pricing your materials higher than traditional brands. However, this won't necessarily cause you to lose customers as long as you emphasize the extra value clients get by paying this price.
Some things to highlight relating to your pricing structure include:
That your materials are longer lasting than traditional building materials. For example, they need to be replaced every 30 years instead of every 20 years.
The materials will stand the test of time in terms of changes in commercial and residential building policies relating to sustainability. For example, if the government says certain building elements must be sustainable, your clients won't need to replace their materials to meet these guidelines.
Utility bill savings from green materials generally being better insulators.
Tax rebates on offer for using green building materials.
Being upfront and explaining why these materials cost more is a great idea too. Highlight the cost vs. the environmental impact of your products.

If you also have an ethical element, like only using workers across the supply chain that operate to high welfare standards, highlight that too. Consumers value these features and are generally happy to pay a little more to know that those who produced their materials were treated well and little harm was done to the planet. 
6. Focus on Digital Marketing
In the current environment, focusing the bulk of your efforts on digital marketing is the best strategy. It's especially important for green brands because it helps align their marketing messages with their brand's sustainability efforts.
Traditional advertising, like billboards, print ads, and direct mail, isn't sustainable. Even if you use recycled paper and other sustainable materials, these methods will never be more sustainable than digital marketing efforts. Instead, focus your efforts on email marketing campaigns, optimizing your website content and SEO, and the power of social media and blogs.
The Importance of Content
Content marketing should be a big part of your digital marketing strategy. A primary goal when creating content is to become a top source on green materials for construction.

Any resources you create should comprise expert, authoritative, and valuable content that covers common questions those purchasing green building materials have. By providing prospects with useful in-depth information, they are much more likely to use you as a supplier.
7. Make Use of Customer Reviews
These days, customer reviews play a big role in the consumer decision-making process, especially for high-involvement purchases like building materials. On top of this, customers may be more cautious about using sustainable materials as they are newer to the market. Also, these prospects likely have no experience using green building materials, so have no point of reference when making a purchase decision.

Therefore, showcase positive customer reviews wherever possible. Have them on your website, and use them within your marketing campaigns, including on social media and in case studies promoted across various channels.
8. Take Advantage of Being an Early Adopter
While the green building materials industry is growing rapidly, it's still a relatively new and niche sector. Therefore, if you have green products and preferably, a completely green brand, take advantage of being one of the leaders in this market. Promote your sustainability frequently and focus on promoting the benefits and value of eco-friendly materials over traditional ones.
If you want to promote your sustainable products, this guide on how to market green building materials should have given you lots of ideas on what to do and what not to do. The green building materials sector is growing rapidly, and by being a leader in this market and promoting your offerings in an effective way, you have a lot to gain!