No matter what building materials products you are selling, marketing is crucial. You can have a great product and unique selling proposition (USP), but if you don't have an optimized marketing strategy, you're missing out on getting sales and specifications.
For those with little marketing knowledge, creating even a basic marketing plan can be daunting, let alone trying to create a highly successful one! This is where using a building materials marketing agency comes in.
You may be wondering: "Why use a building material marketing agency?" By working with a building materials marketing agency, you get access to a team full of experts in the industry who have experience marketing building materials companies like yours. This industry experience translates into high-performing marketing campaigns for your brand that bring amazing returns.
In this article, we'll provide more information on what a building materials marketing agency is and how they differ and outshine standard marketing agencies.
Why is Marketing Important in the Construction Industry?
As with any business and industry, marketing is imperative in the building and construction industry. Marketing efforts help build awareness, tell your story, and attract prospects. The most successful marketing campaigns turn those prospects into customers.
The building industry is a busy market involving professionals that have many things to deal with. Therefore, optimized marketing of your building materials brand is crucial to cut through the noise and grab the attention of these potential clients.
What is a Building Materials Marketing Agency?
A building materials marketing agency specializes in working with building industry clients, specifically those that manufacture building materials. The agency works with you to market your products to specifiers, contractors, and/or direct consumers, like homeowners.
Like a standard marketing agency, they have a team that consists of highly experienced marketing professionals. However, by using a building materials marketing agency, you have access to individuals with experience working on marketing campaigns for other building materials companies. They understand the industry, technical terms, target markets, and the decision-making process of these consumers.
Services offered by building material marketing agencies include social media marketing, content marketing, search engine optimization (SEO), website design, marketing strategy, and more! Some will also help with traditional marketing mediums, like product packaging and sample and display design.
Signs You May Need to Work with a Marketing Agency
Lack of Marketing Expertise
Creating marketing campaigns that stand out from the competition and bring results is a fine art and requires a lot of know-how. Therefore, if nobody on your team is trained in marketing or has a working knowledge of the area, the best course of action is to partner with an agency.
Marketing Promotions Are Not Successful
Another sign that you may need to hire a building material marketing agency is that your marketing efforts don't bring good results. Ultimately, meaning that they aren't generating leads and sales or aren't doing so at a level that makes them worth your time and effort.
You may also notice that marketing content isn't getting engagement, for example, not receiving likes, comments, or shares on social media. Your promotions also won't be driving much traffic to your website. The latter manifests as a low click-through rate on paid digital ads, email content, social media promotions, and content on search engine results pages (SERP).
When looking at SEO, a low ranking on SERP is also an indicator that these efforts aren't successful. A low ranking is generally anything off of page one, with being in the top five organic spots on page one being ideal.
You Don't Use Data to Guide Marketing Strategy
While marketing requires creativity, it is also very data-focused. You must use metrics from previous promotions to drive future campaigns and strategies to meet and exceed your marketing goals.
Posting just to get something out there, with little thought behind the content and no use of data to guide you is a big indicator that working with a marketing agency may benefit you.
Marketing is an Afterthought or Non-Existent
One of the most obvious signs that you should work with a marketing agency is a lack of promotional marketing.
You could have the best building materials products in the industry but if you don't run any marketing promotions, how will buyers learn about them? And if marketing is only an afterthought, with some promotions having no consistency and very little thought behind them, you risk losing out on sales and revenue for your business.
Marketing is essential for every business but especially for those in the construction and building materials industries. While industry contacts and top salespeople are great resources to have, they'll only get you so far. Whether you're targeting other businesses or targeting consumers, it is the single most effective way to educate, inform, and engage others with your products and services.
Marketing is also the key to generating sales and ensuring growth and success for your business. Due to the necessity of building materials marketing, if you aren't committed to putting the effort in, using a building materials marketing agency is an excellent option.
Your In-House Team is Spread Too Thin
Even if you have a dedicated marketing manager, one person cannot be an expert at everything. You might even have some additional team members interested in helping out but if they are also focusing on other tasks, marketing will still not be at its best.
Asking non-marketing employees to assist with social media or blog writing may seem like a good idea but if you want your marketing to succeed, you need a dedicated team with the ability to make, meet, and measure marketing goals.
If this sounds familiar, you may find a solution through a partnership with a marketing agency. Working with an agency can provide all of your marketing needs or complement the skills of your existing team only where needed.
You'll get an entire team of experts who will work together with you to create and implement a plan that maximizes your marketing ROI. It is a simple and cost-effective way to add deep industry knowledge and a fresh perspective to your building materials marketing strategy.
The Benefits of Working with a Marketing Agency
The following are some of the great reasons to work with an agency if you're still looking for an answer to the question "Why work with a marketing agency?"
Using a marketing agency provides instant access to a broad skill set. Even if you hire in-house marketing staff, they'll likely be general marketers with an average knowledge of all marketing elements.
At an agency, you benefit from individuals with specialized knowledge in all areas of marketing. For example, a team with a dedicated copywriter and content marketing, an SEO expert, a talented web designer, a paid ads specialist, and so on.
Therefore, building materials marketing agencies effectively give you access to a whole marketing department that you don't have to manage. Additionally, the team will always be on top of the latest marketing and construction industry trends.
This added wealth of knowledge gives you a competitive edge and helps ensure your business isn't missing out on new growth opportunities. It can also help boost your credibility, create thought leadership for your brand, and set you apart as an industry leader in a crowded market.
Access to Better Marketing Tools
In the current business environment, there are numerous tools available to help make your marketing promotions succeed. From search engine marketing tools to social media planning and email marketing software, understanding which tools will deliver the best value to your business can be difficult.
You'll want to make sure that what you choose has an effective and proven track record with the ability to scale and adapt to your needs. However, making the financial commitment to all of these tools may not be in your budget.
You'll additionally have to consider the investment of time for your team to learn how to fully utilize and get the most from these tools. In the end, it may not seem worth it or even be possible at all, especially if you don't have dedicated marketing employees.
A better and faster way to achieve your marketing goals may be to work with an agency. When you are faced with so many options, an agency can help you make sense of it and determine which marketing tools are best for your needs. Once implemented, your marketing promotions can benefit from all these tools, meaning they'll be better targeted and more successful.
More Time to Focus on Your Areas of Expertise
Have you or your team members been focusing too much of your attention on marketing? By partnering with a marketing agency, you can regain a lot of that time.
You can then focus more on your areas of expertise to help the business succeed and grow without being spread too thin with marketing tasks on your plate.
Streamlined and Consistent Promotions
Many companies put little thought into marketing promotions when doing them in-house. They don't think about how their target audience will respond to the messaging or use metrics to improve future promotions.
Consistency in your marketing is important for many reasons. It helps engage your audience through each step of the customer journey to increase familiarity and build trust in your brand.
Consistent marketing also influences buying decisions with consumers more likely to purchase from a brand they have a relationship with. The more consistent you are in your marketing, the more consistent your results will be.
Numerous businesses, however, have a lot of trouble being consistent with their marketing. From following a promotion schedule to keeping branding elements the same across different channels, establishing a consistent marketing strategy can be hard. When you don't succeed, you will quickly lose momentum, lose customers, and ultimately lose sales.
A marketing agency provides support, guidance, and accountability. They can work with you to create a strategic marketing plan and then make sure that you stick to it. They will help you maintain a realistic schedule and ensure that your branding and messaging are clear and consistent.
They'll also look at performance metrics to make edits to campaigns as needed, improving ROI with each new campaign or promotion.
Strong marketing strategies provide a major competitive edge to any business. As many construction and building materials companies put marketing as an afterthought, investing in a great marketing strategy via a marketing agency will make you stand out to your target audience.
Well-planned marketing efforts can better target prospects, making them aware of your brand. Well-timed marketing promotions will keep you top of mind. And as your prospects learn more about your company and your products, the chances of them choosing you over the competition will increase.
Why Use a Building Materials Marketing Agency Over a Standard One?
Using a marketing agency can help in a number of ways, as just discussed. But using an industry-specific agency gives you a true competitive edge in making your marketing efforts stand out above the rest!
There are an array of reasons why using a building materials marketing agency is an optimal choice as opposed to using an agency with no specific knowledge of the building materials industry.
The following are some of the top reasons to work with a building material marketing agency.
Industry Expertise and Experience
Boutique marketing agencies that operate in the building materials industry will have far more industry knowledge and experience than other agencies. Staff at a standard marketing agency are unlikely to know the industry well enough to create highly targeted campaigns that have the right messaging.
The building materials industry is an extremely technical sector with different needs and consumers than other companies that a regular agency might work with. The construction, interior design, and building materials industries possess lots of jargon and technical terms that staff at a typical marketing agency won't know or necessarily understand.
In addition, marketing teams need an in-depth understanding of how to target your different audiences. For example, they must understand how to change messages when targeting contractors vs. architects. Lastly, many standard agencies aren't accustomed to marketing in the B2B sector, which is where 75% to 100% of your company's promotions likely need to be targeted.
Using a building material marketing agency, on the other hand, will offer ease of communication. They'll understand your industry in-depth and will have dealt with companies similar to yours before.
Therefore, the marketing team won't need much explanation of your needs or any explanation of the industry, who it targets, or technical terms. They'll also know exactly how to target different audiences, from architects to retailers and homeowners.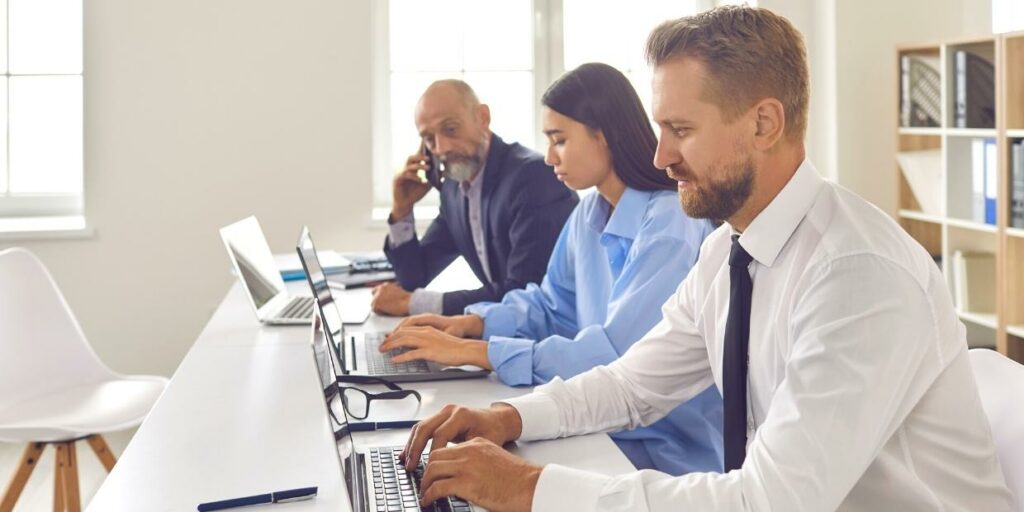 A benefit of any boutique agency over a larger agency that operates in many industries is that you can work with a smaller dedicated team.
By using a building materials marketing agency, you'll always have access to a team that you know and have interacted with directly. This makes getting updates on campaigns and providing them with updates on the brand, company news, and your products easy.
The marketing agency team will also know your company well, as opposed to you being just one of hundreds of clients.
Using a boutique agency gives you access to a much more customized service. This benefit occurs in part because they can spend more time getting to know you and your brand than a larger agency can.
When working with a building materials marketing agency, the agency team will understand the needs of the market and your consumers straight away. They'll then be able to work with you to create a campaign that appeals to these clients while being on-brand and perfectly showcasing the benefits of your building material products and explaining how they outshine the competition.
This type of highly tailored service from a marketing agency makes it more likely that your marketing promotions will succeed and appeal to your target audience.
Access to Industry Contacts
As a marketing agency dedicated to the building materials industry exclusively operates in this sector, they'll have lots of contacts in the industry. This network can come in useful when planning marketing promotions.
For example, if they have contacts at building material or construction publications, they can set up promotions of your brand via those platforms easily. If the contact is well-known to the agency, some of these promotions may even be free, such as a product or brand mention in an editorial article.
In addition, they could have marketing materials contacts that you can work with at a discounted rate, such as those that create sample or product packaging and displays.
Using a building materials marketing agency over a standard marketing agency brings many benefits. These boutique agencies have a vast amount of industry knowledge and expertise, plus many contacts in the sector, all of which will be of major benefit to your marketing campaigns.

Do you want to give your  marketing efforts a boost? No matter what your marketing goals are, Brand Hause can help make your campaign is a success!