While many building materials brands focus on the B2B market, you can't ignore B2C clients. One of the fastest growing consumer markets looking for building materials is the Do-It-Yourself market. 
This group looks to save on labor costs by completing home renovation projects themselves. DIY consumers search for high-quality building materials that are easy to install and targeted to their needs.
Keep reading to learn how to target the DIY market as a building materials brand so that you don't miss out on this growing and lucrative market!
What is the DIY Market? Why is the DIY Market Important to Building Materials Brands?
The DIY market consists of individuals who complete building projects themselves instead of hiring a builder or contractor. DIY projects are typically residential, but some business owners will also complete DIY projects within their retail or commercial space.
The Do-It-Yourself market is growing exponentially, with DIYers tackling all types of home renovation projects, from small jobs to complete remodels. The DIY segment grew significantly during the pandemic as people had more free time to complete home renovation projects.
DIY consumers come from all age demographics, and women are as likely as men to do DIY home projects, meaning the market is quite vast.
If you want to stay ahead in the building materials industry, the DIY market is one you shouldn't ignore. As this target market grows, many opportunities will arise for building material brands. By ignoring this market and these opportunities, you'll miss out greatly on worthwhile revenue streams.
Trends Among DIY Consumers
Before covering how to target the DIY market as a building materials brand, it's crucial to understand some common trends in the market. You should also create DIY buyer personas that can help influence the messages used in marketing promotions.
DIY consumers:
Aren't looking for the cheapest building materials, but for the best value for money and materials that are long-lasting and high-quality. 
Look online for inspiration and guidance.
Opt for green building materials frequently.
Conduct in-depth research before making a purchase decision.
Value customer reviews, especially those written by other DIYers that say installation was easy.
Aren't brand loyal.
10 Tips for Targeting the DIY Market
With the above trends in mind, the following tips will help you target the DIY market as a building materials brand, ensuring you get sales from this growing market.
1. Highlight Quality and Value as Opposed to Very Low Prices
DIY doesn't mean cheap! While many assume those doing DIY projects want the cheapest building materials, that's not the case. Many prefer to pay more to get better quality. 
These consumers are researching materials before purchasing and looking for durability and reliability. DIYers also save on labor costs, so can allocate more of their budget to materials.
Therefore, when promoting to DIY consumers, highlight the value of your products. Show that even with an affordable price, you offer long-lasting and high-quality materials. 
If your materials are a little more expensive, highlight the added value customers will get by opting to spend a little more upfront.
2. Implement a Strong Content Marketing Strategy
Customers completing DIY projects are no different from other audiences making high-involvement purchases; they do a lot of research before making a purchase decision. In fact, this market may do more research than other consumers you sell to in the B2B market.
DIYers seek to engage with content more than other consumers. They look for inspiration, advice on completing the project, and information on the pros and cons of different building materials suppliers.
The vast majority of this research takes place online. However, some consumers will research in-store, and via traditional channels, such as print home renovation and interior design magazines. 
Digital Content for Inspiration and Guidance 
Those tackling DIY projects go online for inspiration and guidance on how to complete their dream projects. They are constantly on the lookout for new ideas. Being a creative inspiration source and an educational source is crucial and can differentiate you from other building materials brands. 
DIY consumers crave knowledge and want advice on their projects. They will generally research using search engines and social media. Therefore, ensure you have a strong SEO and social media strategy (discussed below) that targets the DIY market and provide them with the guidance they are looking for. 
Other consumers may also be motivated and encouraged to tackle a DIY project they hadn't even been considering before seeing your content. 
Content to create for those interested in DIY includes:
DIY project suggestions featuring your building materials.

How-to guides relating to home improvement projects.

Video tutorials. 

Before and afters, including images of transformation, plus a guide on how the "after" was achieved.
Digital Content for Building Material Product Research 
Once DIYers have inspiration and have found guides explaining how to complete the projects, they'll research which building material brands are best for their needs. If you provided the content that inspired them and taught them how to undertake the project, the chances of them buying supplies from you are greater but not guaranteed. 
To help with product research, ensure your product descriptions are detailed and highlight all the benefits of your products over competitors. Also, have an in-depth FAQ page and offer information on how to install the materials when doing it yourself.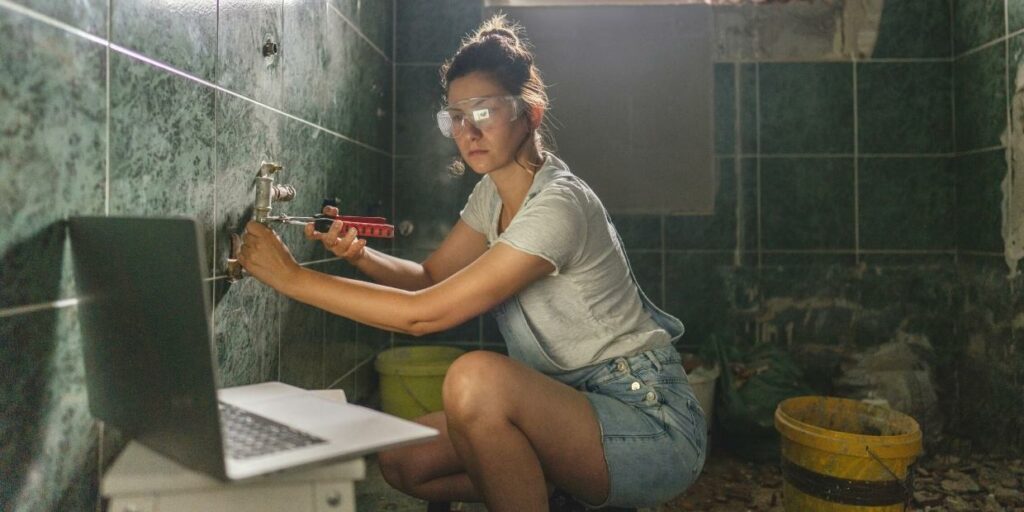 3. Prioritize Social Media
When looking to target the DIY market as a building materials brand, you can't ignore the importance of social media, and it must be a part of your content strategy. Social media is the primary platform used for DIY inspiration. Many DIYers also look to social media for how-tos and reviews of building materials products. 
The main platforms used for DIY guides and inspiration are Pinterest and YouTube. Pinterest is used more for design inspiration and cosmetic renovations and YouTube is typically used for more involved DIY tasks and how-tos. DIY home project posts are also growing on platforms like Instagram, TikTok, and Facebook.  
Make sure the content you post is easy to understand and makes sense to an average homeowner, as opposed to someone in the industry. Don't forget to use hashtags that are popular among those doing DIY home renovation projects as well. 
Paid Ads 
If you want to boost your social media efforts, you may want to pay to target DIY enthusiasts via social media ads. Search ads could also be worth looking into, especially when you first start creating content for the DIY market. 
4. Work with DIY Influencers
Another great way to reach the DIY market, especially on social media, is by working with influencers. Luckily, this doesn't have to cost you too much. In this market, working with micro-influencers will likely bring better results than working with larger influencers with tens of thousands of followers.
Micro-influencers have very engaged audiences; their followers trust what they say and actively look to them for recommendations. Influencers to work with will be positioned within the DIY and home improvement industry (specifically targeting non-professionals) and general lifestyle categories, such as an influencer that posts about DIY projects, cooking, home organizing, and the like.
5. Encourage Content Sharing and Feedback
Another great tactic is encouraging your current DIY customers to post their finished projects on social media and tag you. Seeing the projects of others using your materials can provide inspiration and give confidence that your products can even be used by first-time DIYers. These posts also act as a type of feedback, again adding to buyer confidence.
Before and after posts are especially popular on social media, so encourage this type of content to be shared as much as possible. Turning your customers into brand advocates can help you find new audiences, boost brand awareness, and build trust. 
Crowdsourced content can also help your social media marketing be more consistent while giving you a stronger presence. It can also reduce the amount of original content creation you have to do, so you'll have more time to interact with your followers to build a reputation for educating and helping its customers!
6. Promote Your Green Building Materials
Green building materials are very popular in the DIY home renovation market. Numerous DIYers are initiating projects that make their homes more eco-friendly, so they often opt for energy-efficient materials.
Even if the aim of their project isn't to improve the energy efficiency of their residences, DIYers still heavily favor sustainable building materials.
If you are a green building materials brand hoping to take advantage of the growing marketplace opportunity, the DIY market is a valuable one to target.
7. Market Projects Not Products
If you want to target the DIY market as a building materials brand, you need to focus your marketing efforts on projects more so than the products you sell. While you must highlight the benefits of your products and ease of use/installation, doing this alone won't gain you DIY customers.
Show potential customers what types of projects can be done with your materials. Cover as many types of projects as possible and use market research to discover which types of home improvement projects are most popular.
Because do-it-yourself consumers are not usually brand loyal, this approach is important. You can't rely on your brand as you may do with building industry professionals. Showing how your products can easily be integrated into the DIY consumer's end design is optimal.
Be ready to reach DIYers where they are most likely to be found – online. Many do-it-yourselfers use their mobile device or tablet to conduct research before, during, and even after making a purchase. Therefore, you must ensure that your content and website are optimized for mobile.
A lot of consumers will also go to home improvement stores to discover what brands are available. They'll then do more research in-store. If they see your products, go to your website to learn more, and it's not mobile-friendly, you'll likely lose that customer to a competitor.
9. Don't Leave Targeting this Audience to Your Distributors
When thinking about how to target the DIY market as a building materials brand, many companies simply leave the task to their distributors. While it may be tempting to do this, it's not the best course of action.
Home improvement stores may not even decide to promote your products in this market. If they do include your products in promotions targeted at DIYers, information on how to use your products and their benefits and features will be limited. 
Also, if consumers see your products in these promotions and go to your website to learn more, they'll bounce from the site quickly (and not buy from you) if it's targeted to the B2B market.
Therefore, even if DIY customers can't buy directly from you, promoting to the DIY market on your website and social media is a must to ensure they choose your products when shopping via distributors.
10. Analyze Results and Improve
As with all marketing campaigns, you'll need to analyze the results of your campaigns that target the DIY market and make changes as needed to improve results.
You should also take advantage of opportunities. For example, if your marketing efforts to DIY consumers are successful, you could look into creating a complete product line for this market, like producing kits for common DIY projects.
Consumers are DIYing more than ever before. Having read this article, you should now have a good idea of how to target the DIY market as a building materials brand. While you may need to adjust some of your marketing strategy and brand resources, reaching this growing market is certainly worth the effort.

Need more advice on how to target DIY consumers?  We can work with you to develop building materials marketing strategies that reach all of your target consumers.