Instagram is the second most popular social media platform after its owner Facebook. It has over 800 million users, with this number continuing to grow everyday.
Not only does it have a huge user base but these users are highly engaged. 500 million of these users interact with the app everyday, with over 35% of these checking it multiple times a day. 
Instagram's audience is extremely varied and users have a range of interests. Chances are, no matter what industry you are in, there will be people to connect with on Instagram.
It's especially useful for reaching consumers aged 18 to 45 and those interested in creative and lifestyle brands and content. 
Instagram is also a good social platform for any size business. You do not need to be a big brand with a huge advertising budget to use it and succeed. Big brands will generally get lots of followers quite easily.
However, smaller brands can get a large and engaged following by implementing a well-planned strategy and working hard on their content and relationship building. You do not even need to invest that much, if anything except time and creativity, to succeed!
Continue reading to discover all the ways in which your business will benefit from Instagram.
Why Your Business Will Benefit From Instagram
From increasing your reach to being able to create content that really connects with your audience, Instagram has a range of benefits for businesses.
These are some of the main reason that your business needs to be on Instagram.
Having An Instagram Account Is Expected 
Most consumers expect brands to have an Instagram account. They may expect to find you while searching within Instagram or expect to find a link to your account on your website.
Not being able to find an account can hurt your reputation and disappoint potential customers.
An Instagram account will also help with trustworthiness and credibility, especially if you get your account verified.
Your Competitors Are On Instagram
The majority of your competitors will have an Instagram account. If you do not, they have a competitive edge.
On the other hand, if you find that a lot of your competitors do not have an account, will benefit from Instagram by getting ahead of them due to having an account.
Look at what your competitors are doing on Instagram. Take inspiration from their efforts and improve on those promotions to get ahead!
Instagram Helps With Brand Personality 
Posting and engaging on Instagram helps build your brand personality. Consumers are no longer okay with purchasing from faceless corporations. They want the brands that they interact with to be relatable and have a unique identity. 
Instagram helps you build this personality through posting imagery and video that engages, entertains, and informs followers.
You can use your bio and post captions to help explain your brand, what you offer, and what you believe in. You can also directly interact with your followers and ask them questions, forming a two-way relationship. 
Along with posts relating directly to the products or services offered, you can post content showing company processes and culture.
This helps in showing that there are people and ideas behind the products or services being sold. Some types of posts that can help in building a brand personality include:
Showing Processes: for example, how a product is made or how your team comes up with new product ideas. 
Customer Feedback: share customer success stories and positive reviews. You can also share customer posts featuring your products. 
Company Events, Employee Profiles etc: showing day-to-day company life and giving followers a behind-the-scenes look at your operation is a good way to build a connection and make your brand appear human.
Interactive Stories: this can include doing question and answer sessions, asking your followers questions and running polls, and using the "live" feature to connect with followers in real-time.
You can use your bio and post captions to help explain your brand, what you offer, and what you believe in. You can also directly interact with your followers and ask them questions, forming a two-way relationship.
Instagram Helps With Discovery  
Instagram is a great platform on which to be discovered by new prospects. You can be discovered thanks to:
Hashtags
Using hashtags helps you to be found by users that like interacting with content similar to yours. You can be found when the user searches a hashtag you have used.
If the user is particularly interested in content relating to a certain hashtag they will follow the hashtag. Content using that hashtag then has the chance to be shown in their feed.
Some ways to utilize hashtags on Instagram include: 
Using In Your Bio
You can include a few relevant hashtags in your bio. Do not overdo it though, include just one or two. Make sure they are something that is relevant to a core part of your brand. Also include keywords in your bio, even if not as a hashtag. Your account can then be suggested when these keywords are searched.
Using In Your Post Captions and Stories
You can include hashtags in your post captions. Include a few relevant ones within the caption copy. Then use more in a comment or underneath the main caption.
Try to use the maximum of 30 hashtags per post when starting out on Instagram to increase the chances of being discovered. You can also include a hashtag or two in your Instagram stories.
Using Branded Hashtags
You can even create a specific hashtag for your company. This is called a branded hashtag. Use it in all your posts and in your bio.
Branded hashtags help with identity and visibility. Encourage followers to use the hashtag for something in return.
For example, you could offer the chance to be featured in your feed or story if users include the hashtag in their posts.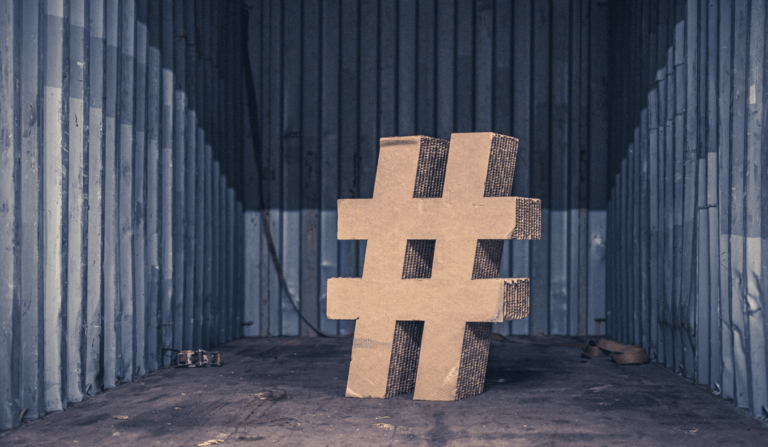 Using hashtags helps you to be found by users that like interacting with content similar to yours.
Tagging 
Having an Instagram account also allows you to be tagged in other people's posts. This could be by other businesses or influencers that you work with or customers.
Consumers may choose to post content showing them using your products. This can be a post directly promoting the product or simply them tagging brands included in an image they post.
Being tagged exposes you to a new audience. The audiences of people you work with and your consumers are likely to align with your target audience.
This increases the chances of them following you back and becoming a customer.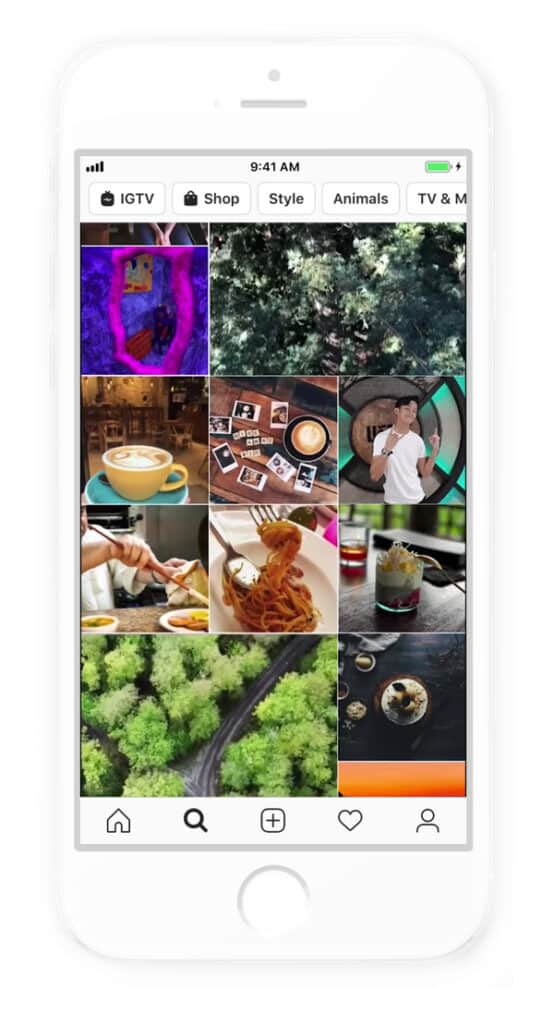 The Explore Feed 
Instagram users have a few ways to find content. If they follow you, your posts have the chance to be shown in their home feed (the algorithm will determine if they get shown.) Content can also be found in the explore feed. 
Users do not have to follow you or even have interacted with you before to see your content here. The explore feed will automatically populate with content similar to content they have interacted with before. 
Users also have the option to categorize the feed by selecting pre-determined categories. For example, they can choose to show travel related posts only. 
The explore feed is a great feature as your posts will show to users interested in content similar to yours meaning they are likely going to be interested in your content and products or services.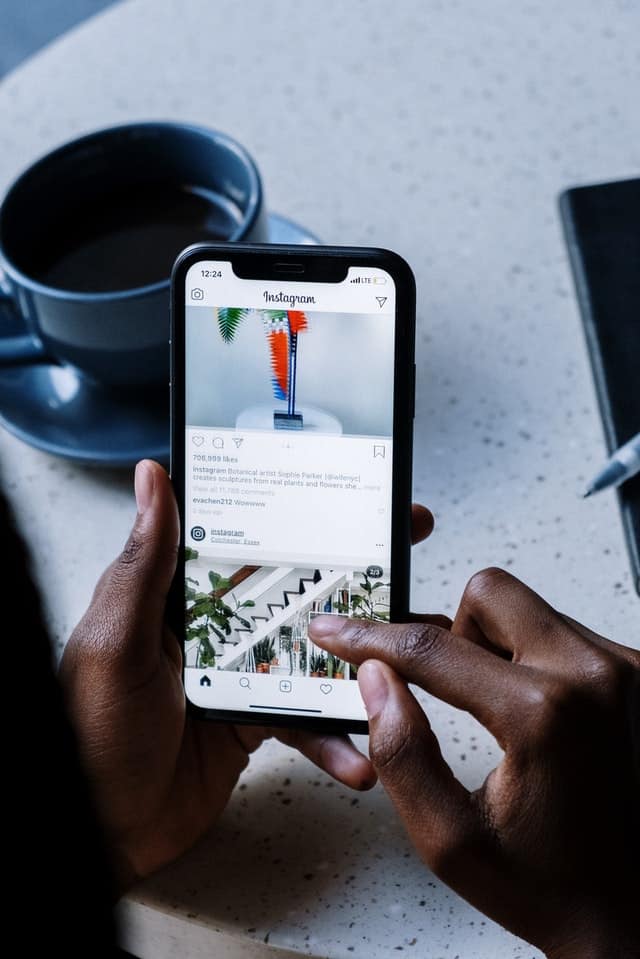 The Search Function 
Users can also discover content through the search function. Searching a keyword will bring up relevant accounts, hashtags, and places. 
You should focus on one or two keywords that really represent your brand. Try to include these in your handle (account name) and bio in order to have your account appear in the search for those keywords. 
Just like search engine marketing, the account with the best reputation (determined by post followers and engagement) will appear at the top of the list for searched keywords.
Appearing high up for relevant searches helps put your account in front of those actively searching for the content you share.
Story Shares 
Users have the ability to share the stories and posts of other users in their own stories. This helps increase visibility for the brand being shared. Viewers of the shared content can click on the story to be taken to the original account. 
This means that creating share worthy posts and stories can get you in front of the followers of others who are not aware of you yet. Just a few shares by those with a good following can increase your reach significantly.
Instagram Allows You To Connect and Collaborate With Like-Minded People
Instagram is a great platform to network and connect with like-minded businesses, influencers, and prospective customers. It is a very targeted platform.
The algorithm shows content relating to posts each user interacts with, making it likely that the users served your content will be interested in it.
Using other targeting elements, like hashtags, helps connect with your target audience too. 
Additionally, it has good networking capabilities. You can comment on and like posts related to your industry and message like minded-companies, industry professionals, and influencers.
Having this contact helps start and grow relationships. For example, you can build a relationship with an influencer that appeals to your target audience in order to work with them. 
Some ways in which you can collaborate with like-minded companies and influencers on Instagram include: 
Doing "Lives" with them

Running contests together

Doing account takeovers

Doing interviews or Q+As together 

Getting them to review your products

Getting them to promote your products or services in their posts and stories 
You can use relationships started through Instagram for other marketing activities too.
For example, working together on advertisements, doing product collaborations and sponsorships, etc.
Instagram provides lots of great opportunities to include calls-to-action in your content. CTAs are necessary to encourage followers to undertake your desired action.
You can include CTAs in your post captions and within stories. Your post captions will have to direct followers to your link in bio.
Stories will allow you to include a swipe-up link that takes the consumer directly to your chosen landing page. This makes completing the desired action easy for them which makes a conversion more likely.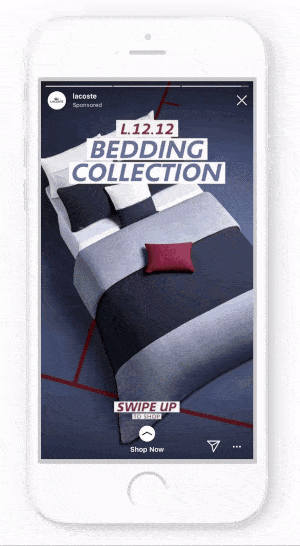 Currently, Instagram only allows the swipe up feature for accounts that have over 10,000 followers or on verified accounts such as brands and public figures.
For accounts that don't yet qualify, consider using Instagram's long form video platform, IGTV. With an IGTV post, you can link to an external source right from within your description.
And if your heart is set on the swipe up feature in an Instagram story, don't despair. You can always create story ads to promote your business. They can last for up to 15 seconds and as a bonus, you can also display these same stories in Facebook and Messenger at no additional cost.
Along with being able to engage with your audience and build relationships, Instagram is effective in driving traffic.
The aspects of Instagram mentioned above such as discovery features, placement of CTAs, and posting relatable and valuable content will help in driving traffic to your landing pages.
This can include traffic to your website, blog, e-commerce store, or even other social media platforms, depending on your goals.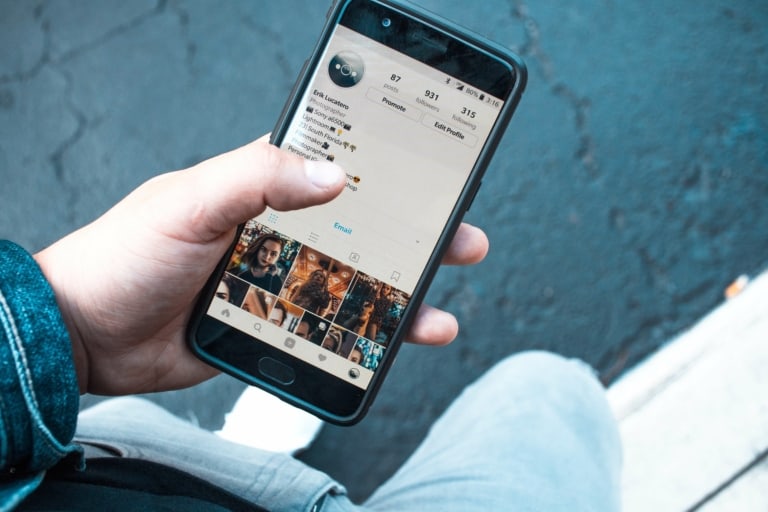 Instagram is a great platform to network and connect with like-minded businesses, influencers, and prospective customers.
If you frequently promote new website content and other landing pages in your post captions, consider using a third-party platform for your link in bio. These platforms store all your content links in one place.
This means that even if you have promoted a new piece of content, the consumer can still follow the link in bio and easily find the content that has been promoted previously. Some good options are linktr and linkin.bio by Later.
Instagram Can Help To Boost Sales
Having an Instagram account provides an additional platform on which to drive sales. All your promotions, no matter how organic or direct in style, should result in driving sales in some way.  
Your more organic posts that are intended to engage and inform your audience, help to create brand awareness and build relationships.
This helps with brand recall for when followers are in the market for a product or service like yours. It can also help with need realization.
Viewing and interacting with your posts alone can encourage the follower to make a purchase.  You can also use Instagram to promote new products, special offers, and sales promotions.
Lastly, the advertising options on Instagram are effective in converting sales due to being native in style and being able to utilize defined targeting options. 
Shoppable Posts 
Instagram additionally allows you to tag products within posts. This allows users to click on the tag if they like the product. They will then be directed to the product page on your website to learn more and purchase.
You will likely be posting a lot of product-related images so it makes it super easy for your audience to learn more and complete a purchase. This ease will make sales much more likely. You can set up product tags easily by creating a product catalog through Facebook Business Manager. 
As mentioned, having an Instagram account provides you with an additional platform to advertise on. Instagram is an effective platform to run paid promotions on as all ad formats are native. 
Each ad option is designed to blend with the platform's organic content. You can run single or carousel photo ads, video ads, or story ads. You also have great targeting options (set up through Facebook Ads Manager) to make reaching your target audience super easy. 
You Can Get Feedback And Collect Data
Having an Instagram account provides you with lots of ways to get feedback from and information on your audience. To get feedback directly from your audience, ask questions in post captions and on stories. You can also utilize polls within your stories to get feedback. 
Instagram's analytics can additionally provide information on what types of content engages your audience the most.
You can also get demographic information such as the location, gender, and age profiles of those that interact with you. Connecting your account with a third party social media scheduling and analytics platform, like Hootsuite or Buffer, can provide additional data and analytics.
In the current marketing environment, it is crucial for your business to be using Instagram. Luckily, it is a fun and easy platform to use. You will also probably need to invest less in using Instagram than you do with other marketing activities, yet can still get great results and returns.
Want some help getting your Instagram strategy started or improved? Get in touch with Brand Hause today for a free consultation. We offer social media marketing services which include helping you set up your Instagram account, plan content, and ultimately get you the best results.

Let us help you explore the benefits of building a strong, organic presence on Instagram.