Your website is very important for your business. To make sure it consistently succeeds in bringing you leads and converting them to customers, you need to be looking at your website analytics and using this information to guide your strategy.
Website analytics provide a whole host of information on your website's performance. You can see how many people visit your website each month and what is working best at driving them to your site
You can also see which pages are most popular, how long visitors spend on your website, and what pages most frequently act as a drop off point, among many other things.
Keep reading to learn more about website analytics and the main website metrics you should be tracking.
What Are Website Analytics?
Website analytics are various metrics that are given on the performance of your website. They show you things like the number of visitors to your website, the actions these users take on the site, and the traffic sources that send them there.
All this information can help in showing how successful your efforts are along with what on your website is working for your goals and what is not.
Do remember that website analytics will never be 100% accurate. Factors such as the browser used to view your website, visitors having cookies disabled, or using tracking blockers, for example, can skew your analytics results.
However, analytics still give a good overview and those mentioned factors should not be drastically skewing results.
Why Are Website Analytics Important?
You need to be using website analytics to help measure your performance. Without them, you can really only measure how your website is doing based on the number of conversions.
While this is important and is the overall goal, by not understanding how your website and individual pages are performing, you don't know what's working at bringing visitors and getting conversions and what's not and could be losing you visitors.
By understanding the performance of your website and how visitors behave when on your site, you can optimize your website design, content, and promotions of it to help increase your overall conversions.
Without looking at web analytics and using them to adjust your strategy, you'll likely end up with a stagnant or even decreasing conversion rate.
Google Analytics is the most popular platform for website analytics. It's free to use and offers a vast range of information on your website as a whole and for each web page.
You can additionally find a range of other analytics platforms to try if you need more information than what is provided using Google Analytics.
Other marketing tools you may use, such as search engine marketing software, will also provide some website analytics too.
Understanding Website Analytics
Once you've decided on the analytics platform to use, the following are the 11 most commonly looked at analytics.
This is one of the most important metrics to look at. This is the number of visitors to your website. It's often given per month and you can go into more detail to see traffic on each week or day of the month as well as the traffic to each page on your website.
You'll ideally want your traffic to be increasing all the time and you'll want to have a good amount of traffic each month. However, do look at the characteristics of those visiting your website and the referring sources.
This will show you if those visiting your website match your target audience. If not, this traffic may not be qualified.
In that case, you'll want to adjust your strategy to get more traffic from your target audience or add the group visiting your website to your list of target customers.
Unqualified Traffic
While you want a large amount of qualified traffic, unqualified traffic still helps with SEO as long as these users don't bounce too quickly. However, as mentioned, what appears to be unqualified traffic could actually be a new market to target.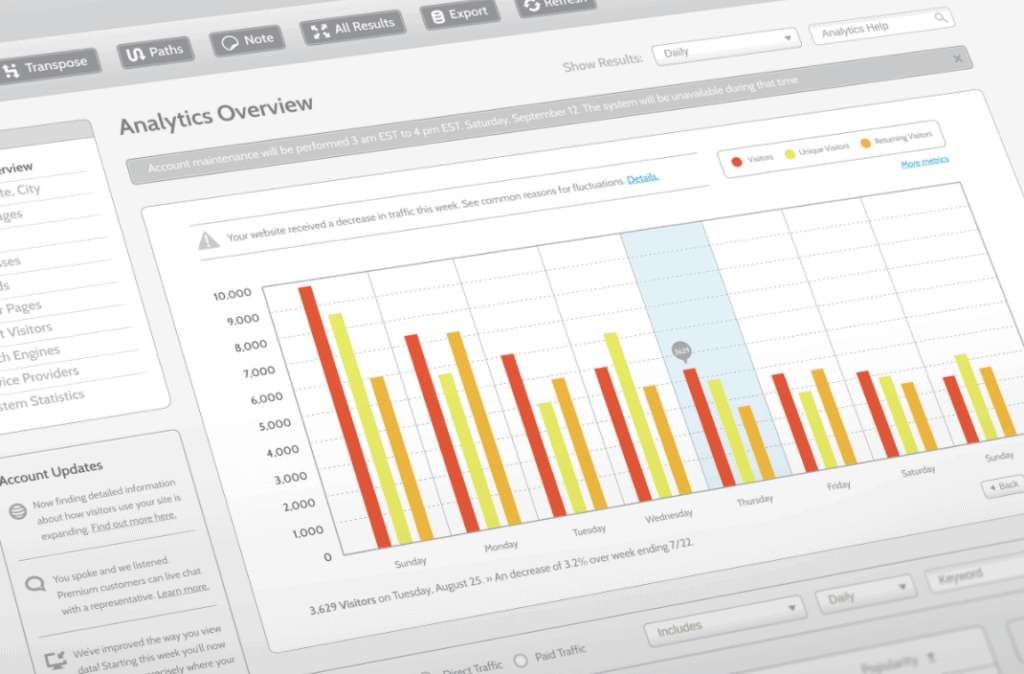 You'll additionally want to look at your number of unique visitors. This shows how many individuals visited your website on a day, week, or month.
Just because you have a certain amount of traffic, doesn't mean that's how many individual visitors came to your site. To know this, you need to look at Unique Visitors. 
If on average, people visit your website three times a month, then while your total monthly traffic is 300,000, for example, the actual visits (and number of people available to convert) will be around 100,000.
Remember, however, that even the number of Unique Visitors may not 100% show how many individuals came to your website. The same person using a different device can be counted as separate visitors.
For example, if an individual viewed your website on their personal computer, on their work computer, and on their cell phone, they would be counted as three unique visitors but only one visitor is available to convert.
Alternatively, multiple individuals using the same device would be counted as just one person and anyone using a tracking blocker won't be counted at all.
Increasing Your Website Traffic
If your monthly website traffic isn't where you want it to be, some ways to increase your traffic include:
Starting or increasing social media promotion
Using email marketing
Improving your SEO efforts
Using paid digital advertising campaigns
Creating high-quality, keyword-focused content
Promoting your website on marketing materials and at trade or consumer shows
2. Percent of Return Visitors
Most website visitors will not convert after just one visit to your website. Therefore, you need to be undertaking efforts to get these visitors to return.
To track if these efforts (such as running retargeting ads) are working, you'll need to analyze the percent of return visitors.
The percentage you aim for is up to you, but having around 30% of visitors be return visitors is generally seen as good. If your number of return visitors is below 20% then your website or retargeting efforts aren't effective.
Again, this could be due to design issues and/or problems with your content and advertising materials.
3. Percent of New Sessions
This shows the percent of new visitors to your website. Those that haven't been there before. This shows if you're effectively promoting your website to attract new visitors. While you want visitors to be returning, you also want to consistently attract new visitors.
The goal is to have a high percent of new sessions and a high percent of return visitors. This indicates that your website and marketing efforts are effective at bringing new leads and bringing these leads back, hopefully with the result being a conversion.
Again, these percentages for new and return visitors are not always 100% accurate.

A return visitor using a different device will be counted as new and those who disable cookies will be counted as a new visitor every time they visit your website.
In Google Analytics, you can also see where your website traffic is coming from. This helps in showing how effective all your marketing efforts are and what kind of referral traffic you're getting from other domains.
The main types of traffic source are:
Referral Traffic (Backlinks):  this is website traffic from another website.
Direct Traffic:  this is people who have typed your URL into their browser.
Search Traffic:  this is people who have found you through a search engine. This is split into organic search and paid search.
Social Traffic:  this is traffic coming from any social media platform.
Email Traffic:  this is traffic coming from links being clicked in emails.
Advertising Traffic:  this is traffic from ads you run that aren't search or social media ads, such as web display ads.
Make use of tracking links to see exactly how much traffic each of your online ad campaigns is bringing and how many people are converting.
To assess the performance of each web page, you can look at pageviews. This shows how many times the page has been viewed over a set period.
Pageviews are basically the traffic to each of your pages. Like with traffic, you can see a total number and a unique number.
This shows you your best-performing pages. High performing pages will be those that are most important to visitors. Your top pages are those that get the most traffic and have the most time spent on them.
Understanding this can help with your content structure strategy. Are the pages you want to be the most visited actually the most visited?
If not, alter your strategy to get those pages more traffic. You could do this by promoting those pages more, undertaking backlink acquisition, and linking internally from pages with a lot of authority.
Analyzing your landing pages helps show which pages visitors are landing on first when coming to your website. This isn't always the homepage.
Looking at this information will show which content and promotions are best at getting individuals to your website. You can then see what else they did on your website after leaving that page.
The best landing pages are those that have content that gets users to your site and then keeps them there, moving them along to other pages and hopefully resulting in a conversion. Whether that's a purchase, signing up for your emails, or contacting you for more information.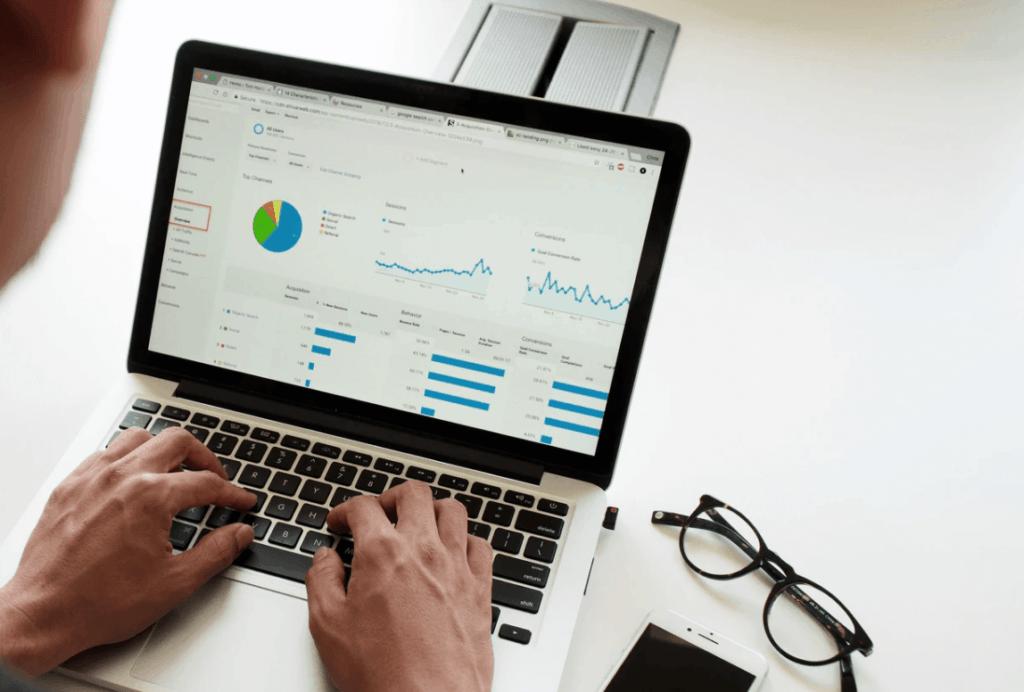 Bounce rate measures the number of people (given as a percent) that enter your website and leave straight away.
Most websites will want to aim to have a low bounce rate. Certain pages may naturally have a high bounce rate, such as your contact information page.
However, a high bounce rate is bad for most web pages and you don't want a high overall bounce rate.
Analyzing bounce rate can help show you how your website and content are performing. A high bounce rate indicates that your web design may have issues such as it being hard to navigate, slow to load, or not optimized for mobile.
It can also indicate that your content doesn't offer the information visitors need or doesn't provide the information you said it would via your meta description, ad copy and designs, or social media captions.
It's important to see what devices are being used to view your website. Many brands focus a lot on their desktop website design but it's likely that mobile devices are most frequently used to view your website.
Understanding this will tell you where to focus your efforts. You should also have a mobile-friendly website. Ideally, you'll use responsive website design (RWD) that allows your website to show optimally on any device that's used to view it.
You can also create a separate mobile version of your website, however, RWD is recommended in the long term.

If you don't have a mobile-friendly website but see a lot of traffic coming from mobile devices, you should definitely optimize your website for mobile.
This will make the experience better for these visitors and can alone help lower bounce rate and increase time on site.
You'll have your website set up with a range of conversion goals in mind. While one of these will be to get sales, they may also include getting email sign-ups, having resources downloaded, or submitting a contact form.
You can track each of these actions and see how many conversions are occurring in analytics. This allows you to adjust your strategy if the optimal number of conversions for each goal isn't being completed.
An exit page is the last page viewed by visitors (who have visited more than one page) before they leave the website. By looking at your top exit pages, you'll understand the main departure pages on your website.
Look at each of your top exit pages and try to understand why people are leaving from this page. A lot of pages become exit pages because the information on them is not valuable.
It could also be because you don't have a strong (or any) call to action. Or, because the page doesn't feature internal links so visitors don't know where to go next.
There are certain pages that you'll want to be exit pages. For example, your completed order page, email sign-up page, or Contact Us page, are often desired exit pages.
If any page that isn't a desired exit page appears in analytics as a frequent place of departure, there will be things you can do to edit that page to keep users on your website.
Understanding your website analytics is crucial to running a website that successfully attracts and converts customers.
Through analytics tools, such as Google Analytics, you can see a vast range of information that can be used to your advantage to improve your website and its content and improve your website promotion efforts. 
If you what to boost your website performance or fix issues you've found via analytics but aren't sure how, get in touch with Brand Hause for a free website analytics and design consultation.
We offer web design services to improve your website's design, technical components such as loading time, and its content to successfully attract and convert leads.

Make your marketing smarter, not harder. Let us help you understand your website analytics and help you develop a successful long-term strategy for meeting your business growth goals.