Pay-per-click advertising, also called PPC, is a type of online advertising whereby the advertiser pays a fee every time their ad is clicked on.
PPC is mainly used for search advertising. This is when you pay to have a link appear at the top of the search engine results page for chosen keywords. It can also be used for social media advertising and display ads.
If you're thinking about starting advertising online and want to learn more about PPC campaigns, keep reading!
Pay-Per-Click or PPC is an advertising model where you pay a predetermined amount each time your ad gets clicked on. You'll pay this amount no matter what action the person takes after clicking on the ad.
It's mainly used for search advertisements. These advertisements run at the top of the search engine results page (SERP) for the keyword you bid on. The ad looks just like organic search results but unlike organic results, sponsored search results are marked as ads.
Social media advertising additionally offers the option to run ads using PPC. PPC may also be used for display ads (which will mainly run on the Google Display Network), however, these more commonly use a cost per 1000 impressions (CPM) model.
As mentioned, PPC can be used for search ads as well as on social media and for display ads, as explained below.
Search ads, like these seen on Google, are the main ad medium that uses the PPC model
PPC is predominately used for search advertising. This is when you pay to have your ads appear as links on search engine results pages for chosen keywords and related
queries.
Paid search ads look just like organic search results but run at the very top of the results page and are marked as an ad. The listing shows the content's title, a link, and a meta description of approximately 160 characters.
While you should never put aside organic search engine optimization efforts to focus on paid search, it can be a good complement to organic efforts.
For example, you may use it to ensure you rank at the top of SERP for your most relevant keywords while you try to rank well organically. Or. you could use it for highly
competitive keywords that you won't be able to rank well for organically.
Do remember also that paid search results receive a lower click-through rate on average than organic results. Therefore, it's always worth trying to rank organically instead of just running search ads for all relevant queries.
Web ads will use PPC, however, cost per 1000 impressions costing is more common 
PPC is also used for web display ads although cost per 1000 impressions (CPM) is more often used as previously mentioned.
Social media ads, like this Facebook ad, may use a PPC pricing model
Additionally, PPC campaigns can be run on social media. The main type of ad used in social PPC campaigns is native ads that look like regular in-feed posts but are sponsored. Facebook ads that run on the side of the main feed may also use PPC. Again, CPM is frequently used here too.
PPC is more likely to be used if you're aiming to get link clicks. Social media ads may be placed for other reasons such as for engagement purposes. In that case, CPM is
more likely to be used.
Running a PPC campaign begins with you choosing the keywords you'd ideally like to target and then bidding on those keywords at auction.
Unlike regular auctions, Google Ads doesn't only consider the price being bid. Instead, the advertiser with the highest "ad rank" is awarded the advertising space. 
Ad Rank is calculated as follows:
Ad Rank =

Maximum Cost-Per-Click Bid x Ad Quality Score
The ad quality score is a measurement of the relevance (in relation to your target keyword) of the web page that you want to promote. Along with relevancy, click-
through rate and user experience are also considered.
Due to this calculation, you'll need to ensure the content you want to create is live on your website and optimized well before you bid. The content needs to have the
keyword you're bidding on used as its main keyword and be very informative and authoritative.
The ad quality score is considered along with a maximum bid to help level the advertising playing field a little. It also helps ensure that the most valuable content is shown instead of the content of the companies with the biggest budgets.
Cost-Per-Click Calculation
If you win the ad space, then the amount you'll pay for each click, cost-per-click, is calculated as follows:
CPC =

(Second Highest Ad Rank/Your Quality Score)+ 1 cent
Your ads will then be shown to those who search queries including your chosen keyword. Every time someone clicks on the ad, you'll be charged the CPC rate.
1. It's Easy to Track
PPC advertising allows you to see how many people have actually clicked on your ad allowing you to understand what creatives and offers work best.
By using a tracking link, you can additionally see how many of those converted on the offer.

2. You Only Pay for Real Traffic
Unlike with pricing per number of impressions (CPM), you're only paying for those that act on the ad by clicking and going to your landing page.
This makes it more likely that you'll get good ROI (also called return on ad spend) compared to running CPM campaigns.
Even if visitors don't convert, you're gaining web traffic with every click so are still getting some benefit from the spend.
3. You Can Rank High Up on SERP for Competitive Keywords
As mentioned, running search campaigns can help you rank well for competitive keywords.
These may be keywords that you're working on ranking for organically or keywords that you won't be able to rank for organically due to being dominated by websites with high domain authority.
1. It can be expensive
Compared to other forms of digital advertising you can end up going through your budget a lot quicker with PPC as the CPC is often high.
2. You need a good understanding of how the process works
Without this, you won't be able to optimize your campaigns to get the best possible results.
3. Clicks don't necessarily indicate purchase intent
Up to 40% of clicks on PPC ads are by mistake. This means that you're paying for someone that was never intending to purchase from you or interested in your offer. These individuals are likely to negatively affect your bounce rate too.
PPC Advertising Platforms
Due to predominantly being used for search advertising, most PPC campaigns are run through Google. These campaigns are set up through Google Ads. You may also use Bing ads (rebranded as Microsoft Ads) and social networks like Facebook for PPC campaigns.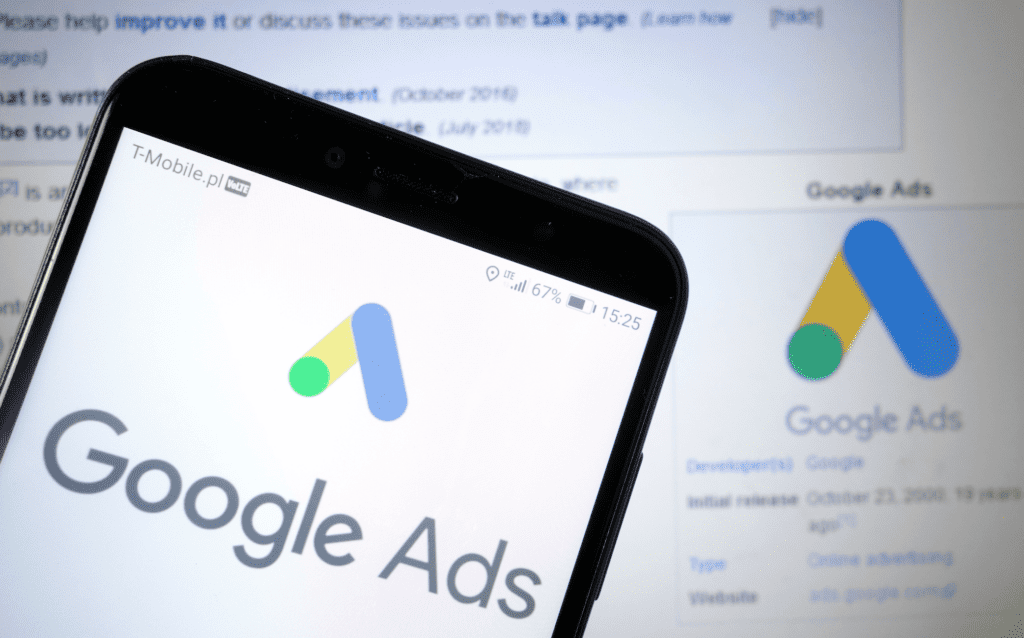 Advertising via Google's ad platform, Google Ads (previously Google AdWords), for PPC campaigns, is the most popular choice.
PPC campaigns are generally paid search ads and Google is the largest search engine making it the most popular platform to use for advertising of this kind.
Along with being a very high-traffic platform, Google Ads is very easy to use. However, the majority of keywords are highly competitive. This means that you may need to bid quite a bit and ensure that you have a very high quality score.
Running PPC campaigns on Bing via Microsoft Ads is a similar process to running campaigns on Google. This platform does have much lower traffic but as a result, it's not as competitive and the average CPC will be lower.
A lot of social media advertising campaigns including those run on Facebook are priced using CPM. However, Facebook does offer the option to run PPC campaigns.
Under this pricing model, they have both display and native (in-feed) ad options. Through Ads Manager, you can run these campaigns on Facebook or Instagram.
Other Digital Advertising Costing Models
If PPC doesn't seem like the right fit for your campaign, consider some of the following pricing models including the discussed CPM.
Cost per 1000 Impressions (CPM)
Using the CPM pricing model means that you'll pay for every 1000 impressions that your ad gets. You get charged solely for these impressions whether the ad is clicked on or not.
This model is generally used for web and social display advertising. This model is a good one to use if your advertising goal is to get exposure and increase brand
awareness.
You can run ads until your budget runs out or for a certain number of impressions. For example, you may want 100,000 impressions every week.
Cost Per Acquisition (CPA)
Cost per acquisition campaigns are set up so that you only pay once an individual has completed a certain action.
This model does not charge for impressions or actions needed to be taken to get to your desired conversion event. Therefore, you're getting views of your advertisements and traffic to your landing page at no cost.
Using CPA also offers good ROI as you're only paying when a conversion (not necessarily a sale, just the desired action) occurs. Along with sales, this could be downloading an app or signing up to an email list among other things.
Some actions can fall under other names such as Cost Per Install (CPI) for the installation of an app or Cost Per Download (CPD) for the download of a product or
resource.
Cost Per View (CPV)
Cost per view is used for video ads. As it sounds, you're charged for every view of your
video.
Pay-Per-Click advertising is a good model for those looking to optimize their ad campaigns for click-through to their landing page.
Running a PPC campaign does take planning. You not only need to ensure that your ad design and offer will convert but also that the keywords you bid on are relevant and the content you're linking to is high-quality.
However, if successful, PPC campaigns can bring good returns at a minimal cost.
If you're looking to run a PPC campaign or just get started with digital advertising in general, we can help. From choosing the best pricing model and goals to running and optimizing your campaigns, Brand Hause will bring you the results you're after.
Get in touch today to learn more. You're first consultation is free!