A strong building materials marketing strategy allows you to create and promote a clear brand, engage your target audience, and lead them along the path to purchase. Many building materials brands, however, overlook marketing or put minimal effort into it.

Sometimes these companies lack time, and sometimes it's because they lack resources. Whatever the reason, neglecting your marketing is a mistake that can ultimately cause you to lose out on sales and specifications. Marketing efforts also build awareness and increase your audience of potential clients greatly.

If you want to learn more about how to craft a clear and measurable marketing strategy, keep reading for some top building materials marketing tips.
Marketing Strategies for Building Materials
The following are some indispensable techniques to include in your building materials marketing strategy.
1. Define Your Building Materials Brand
Your building materials company needs a unified brand identity that incorporates a consistent message, voice, and persona. This brand identity will be used across all of your marketing elements and should be focused on how you help your customers as well as the products you offer them. 
Being a well-known brand in the building materials industry is a big advantage. Most building materials purchases are high-involvement. These purchase decisions require a lot of research, and buyers want a high level of confidence when making their decision. 
Just being a well-known brand is enough to supply some of that confidence. Word-of-mouth marketing, discussed later in the article, plays into this as well. 
Brand Audits
When defining your brand and deciding what's working and what needs adjusting, conducting a brand audit is recommended. A brand audit is an analysis of the strengths and weaknesses of your brand and marketing strategy.
Audits also look at customer sentiment. Learning how your customers feel about your brand, your products, and the service you provide is vital to delivering great customer experiences and every stage of the buyer's journey.     
In addition, brand audits assess your goals and determine if they're being reached and what's affecting success if they aren't. After your brand audit is complete, you'll have all the information you need to adjust your marketing and brand strategy to bring better returns.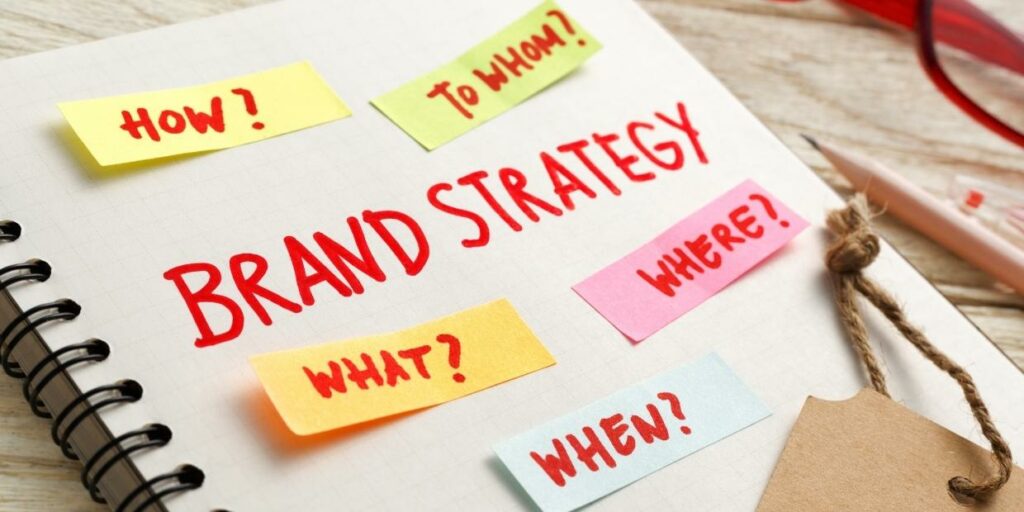 2. Create Building Materials Buyer Personas
A key to knowing how to craft your brand identity and message is understanding your target audience. You can do this through building materials market research and by creating buyer personas. These personas feature the characteristics of your main consumers.
Buyer personas are especially important in the building materials industry as you'll have multiple target consumers who are all very different in their needs, wants, and industry knowledge. Some common buyer personas to focus on include those of professionals, like contractors, developers, or architects, and residential clients, like homeowners and DIYers.
Things to outline in each persona include demographic and psychographic information such as:
Age
Education
Gender
Marital status
Homeownership
Location
Personality
Motivations and interests
Lifestyle
Opinions, attitudes, and beliefs
Values
Use customer data and other information you have to help build out these personas and add to them as you get more information on prospects and clients. Be sure to include their buying needs and what a path to purchase looks like for each persona.
3. Have a Social Media Presence
When planning a building materials marketing strategy, you can't ignore social media marketing. Many building materials companies, especially those that primarily target B2B audiences, don't invest in social media. More often than not, this is a big mistake.
Being visible on social media platforms makes it easy to connect with a wide variety of prospects for little to no cost. Implementing tactics like using well-targeted hashtags and posting content that will appeal to those you target (this includes the message, CTA, and visuals) can raise awareness of your brand among prospects.
Social media also helps build engagement and drive traffic to your website to ultimately convert prospects to customers.
4. Generate Online Brand Awareness and Engagement
Engaging with consumers and prospects on digital platforms is crucial. Use online platforms to first connect with prospects, then engage them, and initiate the path to purchase. 
Connecting with Your Audience 
Use online platforms to connect with prospects and tell them who you are. You want this content to be well-targeted. Some targeting techniques include:

Running targeted paid digital advertising campaigns.

Using hashtags on social media posts.

Creating web content that targets queries your audience has.

Encouraging email list sign-up (for example, in exchange for a discount or resource.)

Engaging Your Audience

Once you've connected with your target audience, keep the conversation going via engagement strategies. Post content that elicits a response and encourages a conversation to begin between the brand and your audience. 

Converting Your Audience to Customer
Having connected with and engaged potential clients, start "talking" to them about how your brand can help them with the project they're working on and solve the problem of which building materials supplier to use. Make use of calls-to-action and supply all the information they need to get the sale. 
5. Content Marketing Strategy and SEO
Content is becoming more and more crucial to all brands, especially those selling high-involvement products and services like building materials. Content marketing allows you to provide prospects with an array of information and resources that help them make the best purchase decision.
Content marketing also plays into SEO. The vast majority of commercial and residential prospects use search engines as research tools when looking for new materials. Therefore, content and search engine marketing can't be left out of your building materials marketing strategy if you want to gain sales and stand out above your competitors. 
Web content is also a big part of digital marketing overall. It helps you rank well on search engines for queries relating to your products and gives you content to share on other platforms, like on social media or via email newsletters. 
Content Creation
When it comes to content creation, you want to become known as an expert in the building materials market; a source that both commercial and residential buyers (assuming you target both) go to for advice, information, and news on the industry. As you're the one that provides valuable information and connects that information to your products, they'll likely choose to purchase from you.
This web content can include a series of web articles, a blog, a podcast, a video series, or a combination. You may also want to create eBooks, white papers, case studies, and infographics, among other content formats.
Web-based content should always follow search engine optimization best practices. These SEO techniques include using keywords that have a good search volume and an appropriate keyword difficulty score, using title and header tags, including internal and external links, and adding a meta description.
6. Implement Email Marketing Campaigns
Once you have prospects' emails, plus the emails of existing or past clients, you can continue your marketing efforts via email campaigns.
Email campaigns allow you to:
Share useful resources, like new articles, videos, or guides.
Inform clients and prospects of promotions you're running.
Provide brand updates and news.
Inform consumers of new products or new product features.
Emails are highly engaging and are great lead generation tools. Via email list segmentation, it's also easy to target emails to different consumers based on where they are along the path to purchase.

In doing this, you increase the chance of emails moving different groups onto the next part of the customer journey, ultimately converting them to customers or repeat customers.
7. Optimize Your Building Materials Website
Without a highly user-friendly and optimized website, your marketing strategy for building materials won't be successful, or won't be as successful as it should be.
Features of a user-friendly website include:
Quick to load webpages (your website loading speed should be under two seconds.)
Easy to consume content with well-spaced paragraphs, headings, visuals, lists, and the like.
An easy-to-use website navigation, complete with a search function.
Highly visible contact information.
An FAQs page.
Your website also needs to be optimized for mobile. Additionally, live chat functions can be very helpful as prospects will likely have questions relating to your building materials products. Answering these questions quickly and directly via live chat makes the chance of a sale much greater.
Product Descriptions
Product descriptions will be a big part of your website, and this copy also needs to be optimized. Provide as much information on products as possible, including their features, styles, colors, and finishes available, installation information, and where to buy. High-quality product images are a must too.
8. Make Use of Reviews and Customer Feedback
As briefly discussed earlier, customer feedback must be part of your building materials marketing strategy. In both the B2C and B2B markets, consumers look at customer feedback when making many purchase decisions. The higher involvement the purchase, the more feedback they search for, meaning those buying building materials will look for a significant amount of feedback.
This feedback includes direct word-of-mouth feedback when clients of yours directly tell others about their positive experiences. It also involves more indirect feedback, such as reading reviews and other online feedback from customers.
Collecting Customer Feedback
As part of your marketing strategy, you'll want to implement tactics to boost word-of-mouth recommendations and encourage reviews and feedback to be left. For example, you should have a feedback feature on your website and set up business accounts, like Google My Business and Yelp, which allow feedback to be left.
You can also directly request feedback from clients to get information to use in case studies. This more in-depth feedback is especially important for the B2B market as professionals will need to present justifications for choosing your building materials over competitors.
Always keep an eye on feedback left on social media too, such as reviews left on Facebook and posts you're tagged in on other platforms. Share positive posts where possible, including in main feeds and stories. Encourage social media followers to tag you in posts showing projects they've completed with your materials.
If you receive bad reviews on any of these channels, contact the reviewer to resolve the issue.
9. Have a Strong Sampling Strategy
While digital marketing tactics are crucial and will make up a large part of your building material marketing strategy, traditional marketing still plays a role. Samples and displays remain an indispensable marketing tool for those in the building materials industry.
Ensure that your samples and their packaging and displays get your message across in a way that appeals to your target audience. You should also create different samples for different consumers, for example, samples that an architect can put in a portfolio and samples residential consumers can pick up at home improvement stores.
While producing samples in-house may seem like the best choice, the optimal strategy is often working with a third party that focuses on sample design, production, and distribution. Keep this in mind when planning your sampling strategy.
A well-planned building materials marketing strategy can bring incredible results and will help you stand out from the competition. From digital marketing to traditional methods and sampling campaigns, there are many ways to promote your brand and products to your target audience in a way that engages and converts. 

At Brand Hause, we have experience creating targeted and customized campaigns for businesses in the building materials industry. Reach out today to discuss your marketing needs!